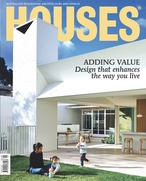 October 2016 (Issue 112)

Introduction to Houses 112.

A "nearly derelict squat" has been transformed into a labyrinthian dwelling that celebrates the work of an artist who once called the site home.

A compact, but generous home wrapped in cladding salvaged from the small Victorian cottage that was originally on the site.

David Mitchell Architects reworks his own inner-Sydney worker's terrace to create a light-filled home and studio that offers a "site-specific theatre performance."

A trip to Selgas Cano's Silicon House and architecture office in Madrid, as part of the 2016 Dulux Study Tour, revealed a celebration of the natural environment and the social approach taken by the practice.