Creating architecture that poetically responds to people and place is not restricted to an older generation of Australian architects – it also permeates the work of many emerging practices. Melbourne-based Lovell Burton Architecture is one such practice that revels in the experiential qualities of a building, avoiding a focus on creating image-driven, Instagram-ready results.
"We see architecture as an additive process, rather than reinventing the wheel every time. We are focused on a more sensory idea of what it is to dwell on this earth," reflects codirector Joseph Lovell.
Lovell Burton Architecture is both a professional and a personal partnership between Joseph
and Stephanie Burton that began during their studies at Deakin University. After both graduating from the Master of Architecture program in 2008, they worked separately for a while. The pair then came back together at Jackson Clements Burrows Architects, a practice that has spawned a number of successful emerging practices, such as Archier, Figureground Architecture and Rob Kennon Architects. "You end up with a really good toolkit quite quickly as they throw you in the deep end and are good mentors along the way," Joseph says about his time at Jackson Clements Burrows. Stephanie adds, "We have taken away an optimistic approach to architecture from our experiences there."
While the architects only officially opened their studio in early 2018, they have been working on a couple of houses behind the scenes for a few years and have six or more projects in the pipeline. Barwon Heads House was the duo's first project and as with many other emerging practices, it was designed for family. In this case, Stephanie's parents were the clients and the brief grew from endless conversations over the dinner table. The new house replaces a dilapidated cedar cabin. With the living spaces elevated to the first floor, the landscape is now understood in a very different way. "We are interested in giving the occupant an experience of place, something sensory," says Stephanie.
Springhill House, winner of the New House under 200 square metres category at the 2018 Houses Awards, was Lovell Burton's second project – this time designed for Joseph's family. With a limited budget and sky-high aspirations, Joseph and Stephanie needed to be inventive. Sited in an unused agricultural paddock, this new home is efficient in its planning, structural system and material choice, and it celebrates and embraces its rural setting. The pair is particularly pleased with the galvanized steel cladding used, as subtle reflections of the sky and paddock on the skin of the building change throughout the day.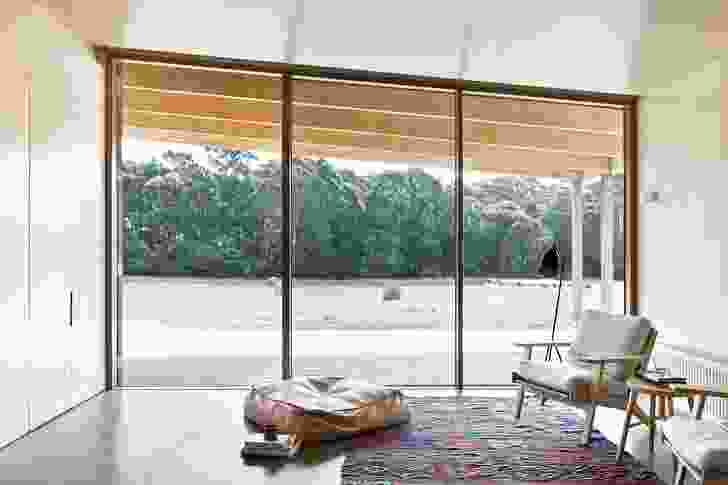 Alongside a desire to respond to the human condition and our connection to our environment, Lovell Burton is interested in the more scientific aspect of design and material choice. On my visit to their studio, Joseph described a favourite book that sits on their coffee table at home: "It's called Hidden Beauty: Microworlds Revealed [by France Bourely] and it [features] microscopic images of insects and the places they inhabit. It's amazing to see how well the insects fit into their respective environments, the patterns and colours." Joseph and Stephanie reveal a deep thinking about our place in the world and how this might affect how we design.
Both directors teach architecture at Deakin University, which they hope to continue doing as they further establish their practice. "We love teaching. It makes us pause and lights up different part of our brains – we come back to the studio and feel more switched on," says Stephanie. When asked about the future of their practice, Joseph says, "Residential projects are an interesting testing ground for how people relate and connect to buildings. But we aren't fixed on a particular project type. We believe that a building, public or private, large or small, should reinforce the feeling of being at home in the world."
The duo is keen to start working in the aged-care sector, as they are interested in how quality of life can be enhanced through design. "We've been looking to European models of aged care and they seem to be miles ahead of Australia," notes Stephanie. Passionate and excited by the way architecture influences and responds to the human condition, both Stephanie and Joseph will surely bring joy to the lives of many fortunate clients.
Source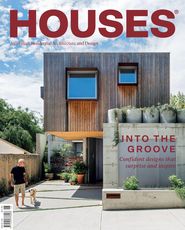 Issue
Houses, December 2018
Related topics