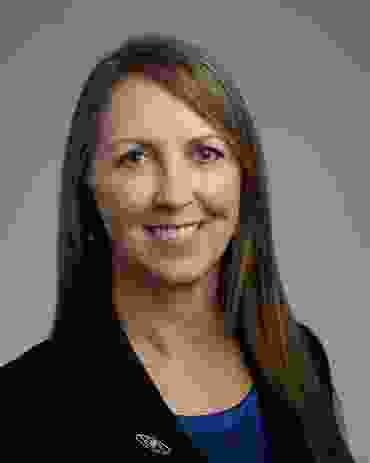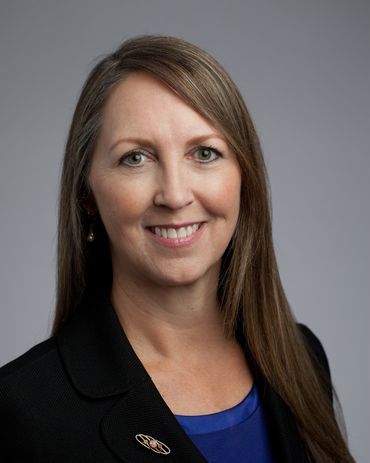 Scientists, administrators, and facility managers frequently ask, "What is the state of the art in laboratory design, and what can we do with our upcoming project to keep up with our competition?" As architects and engineers who design laboratories for teaching, research, government and industry clients across the globe, RFD is in a unique position to examine the latest trends and technology, and how they can be applied to particular laboratory designs.
These trends were applied in the design of the nearly complete South Australian Health and Medical Research Institute (SAHMRI) in Adelaide, which RFD designed in collaboration with Woods Bagot in Adelaide, Melbourne and New York. The following trends reflect, in no particular order, the emerging trends which new and renovation laboratory projects might consider addressing in the earliest stages of project planning.
Trend 1: Inter-trans-multi-cross disciplinary
The traditional boundaries of biology, chemistry, geology, and physics for example, are being blurred to a point where they sound like science fiction, such as astrobiology and geophysics. Now add engineering into the mix and the resulting sub-disciplines cover every imaginable combination. The resulting laboratories which support teaching and research activities must be highly flexible and adaptable, with zones which can be configured to perform specific tasks, which might previously have been in separate buildings. The new laboratory buildings are organised by function, rather than discipline, and are designed to accommodate temporary research teams which need to regroup for the next project. An increase in specialist support space is also required to reduce duplication, allow sharing of costly equipment, and improved collaboration. These specialist spaces may include PC3 containment laboratories for work with pathogens; GMP commissioned space for work with anything that could go into a human body such as supplements, medications, or implants; imaging spaces for MRI, CT, PT and electron microscope; and high-level clean rooms. Protective spaces for work with high powered magnetics and lasers are increasingly common. Asking a building to address numerous "flavours" of laboratory function requires service intensive spaces which can accommodate sometimes large, frequently changing pieces of equipment as well as changes in research focus and protocols.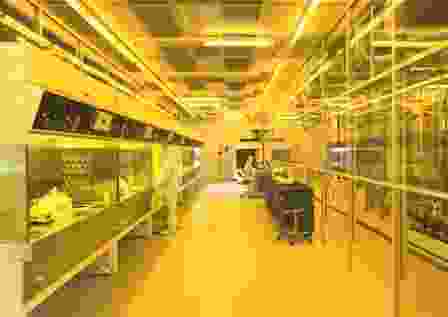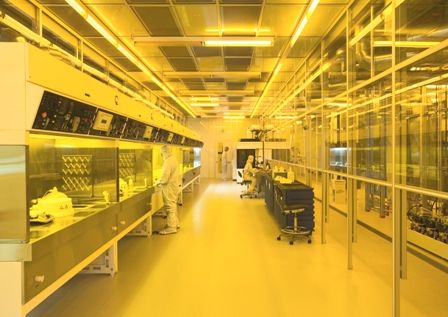 Trend 2: Nanotechnology — small is big

Performing nano-scale work requires service intensive specialist spaces, which can include near-zero vibration floors for imaging, clean rooms, highly toxic gases, and impressive energy consumption. Interdisciplinary domains include Nanobiotechnology, Nanoelectronics, and Nanomaterials, and their application to our daily lives is growing at an exponential rate as the resulting discoveries are integrated into medical, energy, communications and construction materials and products. Every laboratory space supporting nanotechnology research may have vastly different and sometimes conflicting needs to the laboratories within the same suite, as every step in a process requires something unique. While nanotechnology research is not conducted within open laboratory space, it is possible to provide flexibility within the smaller spaces, and to create those smaller spaces within a larger 'ballroom' type environment which supports change.
Trend 3: Multiple dimensions
Scientists have been using 3D imaging for some time, but now they are able to go 'inside' the images through the use of 'caves' in which the images are projected. Imaging software is also available to project on planetariums, making that frequently under-utilised space more useful. On the low-tech end, 3-D images can be projected on a screen or wall using two parallel projectors and special software such as Geowall, making 3D imaging available to the classroom. Not only are scientists looking at 3-D, they are also printing in 3-D, such things as replacement organs, which of course require extremely specialised GMP spaces as they will be implanted in humans. Dimensions beyond the third do not have any impact on laboratory space … yet!
Trend 4: Increased computing capacity
As a result of the first three trends, which tend to be extremely data intensive, the need for fast, high capacity computing is increasing. Computers now run everything, they are the brain of the building, they run the instruments and robotics and imaging, they monitor the entire system and send a text when there is an issue. Capacity needs increase more rapidly than server sizes decrease, so providing space with adequate access, power, and cooling is critical for the future of experimental science buildings. Most data-rich scientific applications are not compatible with current wireless capabilities, so hard-wired data connections are still necessary for the near future. Providing the space and infrastructure for dedicated server rooms in laboratory buildings is a consideration that should not be overlooked during early planning.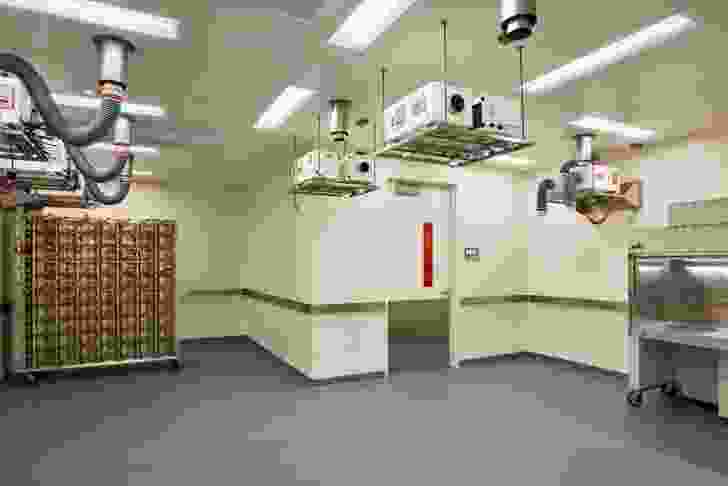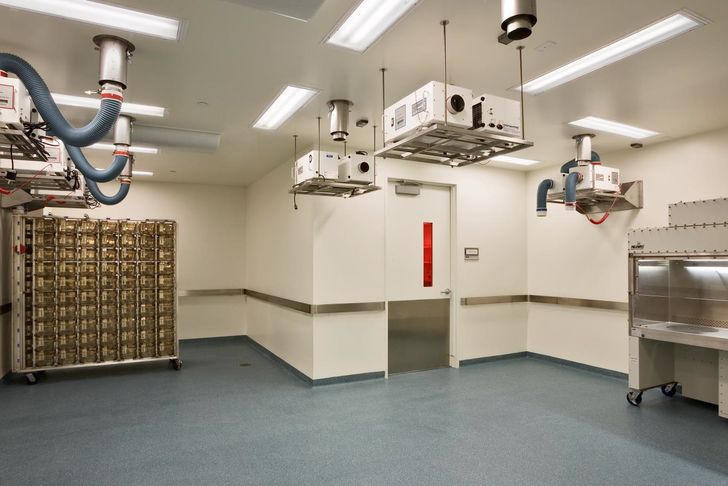 Trend 5: Highly specialised animal models

Despite predictions that animal models would be replaced with computer modelling, the need for high quality animal facilities is still growing. The important trend is that highly specialised animal models require highly specialised space; while the rooms may appear the same to a casual observer, there is a robust, redundant infrastructure keeping the proverbial $10,000 mouse thriving. Some service intensive spaces commonly seen are 'Barrier Facilities', which are in essence clean rooms for animal breeding and studies; 'Imaging Facilities' with rodent-sized MRI, PET and CT scanners which allow in-vivo, or continuing live studies; as well as bio-containment facilities for research involving hazardous pathogens. Highly trained staff are required for these animal facilities, and ensuring pleasant, sate and ergonomically aware work environments are critical in retaining staff. Addressing staff health issues such as allergens, repetitive motion, and mundane activities is a priority. Animal facilities of even modest size should consider robotics within the cage washing areas, at a minimum there should be the provision of space and infrastructure for future robotics systems to be added as they become more affordable.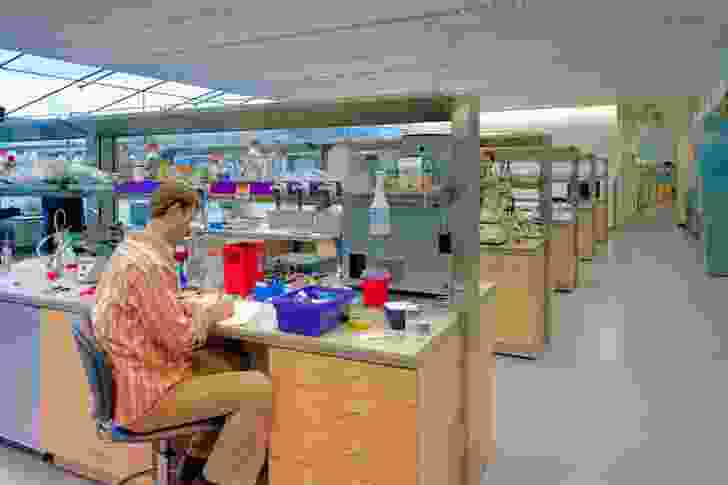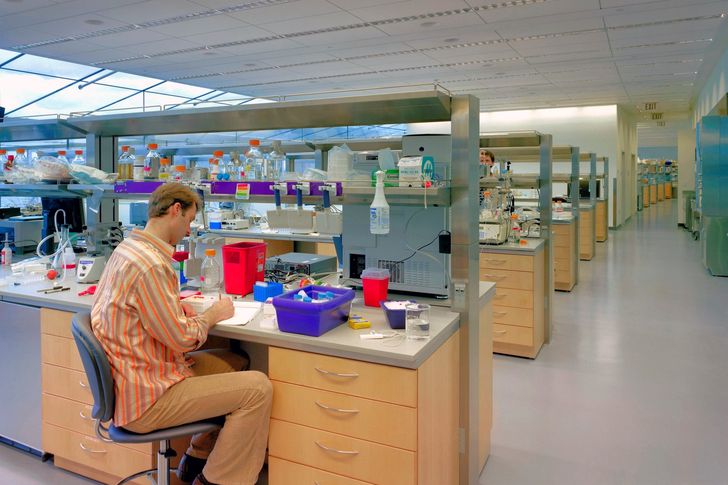 Trend 6: Sustainability drives design

The normal language of building design has evolved to include 'Optimal Building Orientation', 'Daylighting', and 'Rapidly Renewable Materials', amongst a myriad of other 'green' elements. For the most part the result has been increasingly pleasant spaces with energy efficient systems, but how does this relate to a laboratory building, which is typically one of the most costly building types to construct and operate? A primary challenge in most laboratories is that significant fresh air is required due to fumes, allergens, odours and heat gain. There are many systems for reducing exhaust when spaces are unoccupied, testing air for the presence of particular elements, and capturing latent heat from the exhaust stream — all of which increase the construction and maintenance costs. Significant construction, energy and maintenance costs would be realised with a manifolded laboratory exhaust system, which is the gold standard in the United States, but this is quite limited by the Australia and New Zealand codes. Further 'greening' of laboratory buildings should include methods to reduce water consumption, capture of equipment heat (before it heats the space), and the use of low-VOC finishes. Rapidly renewable joinery materials, recycled content in metal fabrications, and easily reconfigurable laboratory bench systems are also viable considerations for the majority of laboratory project types.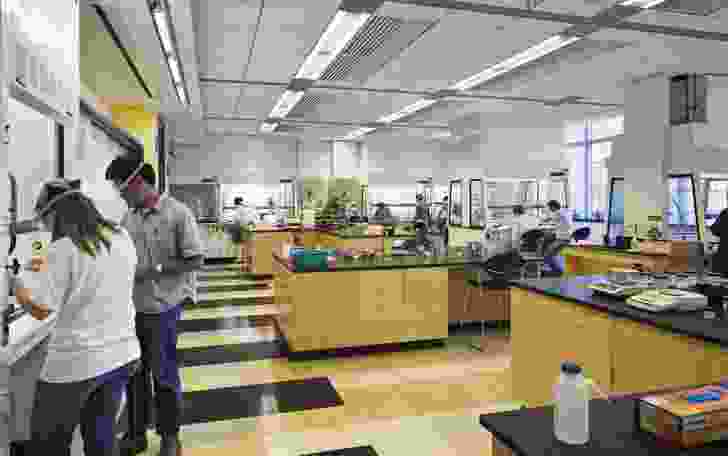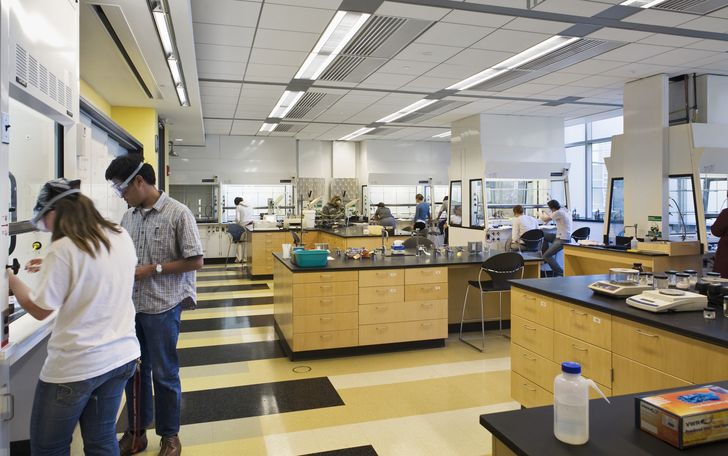 Trend 7: Teaching pedagogical shift

Teaching laboratories have included hands-on activities for decades, but the focus was primarily on the individual copying what the instructor demonstrated, and the spaces consisted of rows of benches facing the instructor. The current pedagogical direction is towards team-based, problem solving activities which use role-playing and technology to engage this generation's learning styles.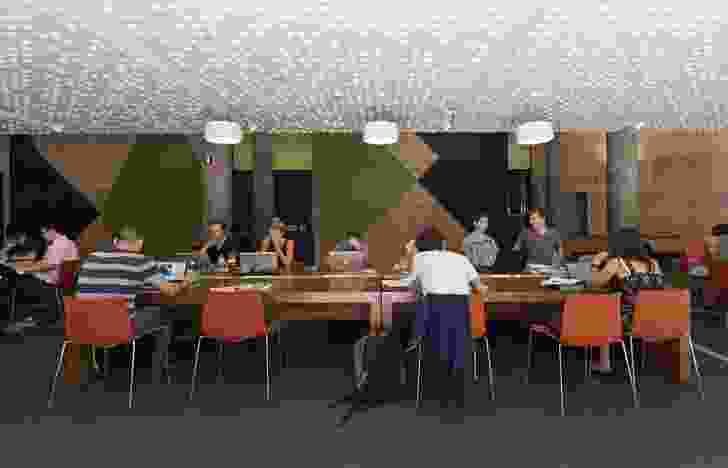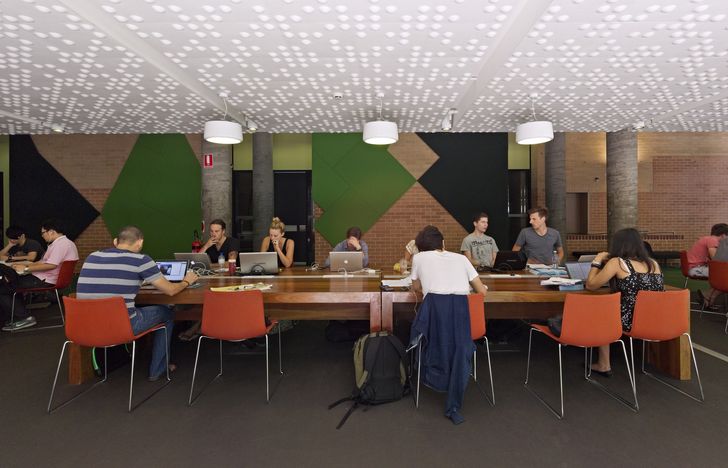 The impact this has on space is seen with benching set ups for teams, integrating computers and an array of instrumentation or electronics, with connections to a projection system for group review. Many teaching laboratories are set up with movable lab tables to allow reconfiguration for various activities. The active learning initiative also requires a spectrum of spaces outside the laboratory to facilitate blended learning, such as collaborative areas and informal reflective or quiet areas. Australian universities are embracing this pedagogical shift as seen in several recent laboratory buildings.
Another result of modern pedagogies is the concept of student research projects and in some instances the inclusion of undergraduate students on faculty research projects, requiring additional space for student research and storage, or additional space in faculty research labs. Many institutions offer community outreach classes for primary and secondary students and teachers, which increases the utilisation of sometimes under-utilised spaces, but may add specific requirements such as lower bench areas or additional prep and storage space.
Trend 8: Celebration of science
The days of long dark dungeon-like corridors and small isolated laboratories are over for the majority of laboratory types. Corridors are now seen as 'serendipitous collision' places where interaction and collaboration can take place spontaneously. Wider corridors with white boards and seating areas are common, as are windows into laboratory spaces, all of which make the building feel more active and alive. Flooring patterns, artwork and other elements are brought in to 'celebrate' the science practiced within. At Queensland University of Technology's new Science and Engineering Centre, the 3-dimensional interactive installation known as 'The Cube' is drawing students, visitors, and school groups to view, play and learn.
Highly specialised spaces are no longer hidden away, but are put on display for all to see, because it is interesting and fascinating to look at, and provides an opportunity to put 'science on display' without disrupting the activities in the laboratory. Display areas for poster boards, specimen collections, and even antique laboratory equipment are provided, as well as monitors to display video feeds of current laboratory activities, relevant images and even readouts from the BMS system which show energy consumption. Amenity spaces such as cafes, coffee carts, and seminar rooms are used as a way to bring others into the building as well as to make it more desirable to the inhabitants. All of these ideas combine to make the science buildings of today much more approachable, interesting and enjoyable places than they were historically.
Trend 9: Evolution in laboratory support spaces
Traditionally, a science laboratory was an all-inclusive space which held everything the scientist required, including an imbedded office space. In the old ivory tower model, everything a scientist needed was inside the four walls of their kingdom. Fast-forward fifty years and laboratory buildings in the current era reflect the prevalence of collaboration and sharing of specialty spaces and costly instruments. Tracking the ratio of primary laboratory space to laboratory support space over this time period, one would see a change from nearly 100 percent laboratory space as primary space, to the present day ratio of approximately 50:50.
In most laboratory types, the primary laboratory space has an equivalent area somewhere in the building which is secondary laboratory space. This additional space may be shared core facilities, animal facilities, greenhouse space and other elements which support the teaching, research, testing or production functions. These secondary spaces are critical to capture during the planning stages of a project, even when it is not known what a particular function might be, providing an appropriate amount of space for that future need is key to the success of a project. The actual ratio of secondary space will be affected by the science disciplines, functions, and access to the needed secondary spaces elsewhere on campus, in the city, and so on.
Within the engineering disciplines, the ratio is completely different due to the heavy usage of specialist equipment which may not be shared, the equipment and related support area may be all the space a researcher requires, with very little opportunity for sharing. The ratios of laboratory primary and secondary space should be compared to similar benchmarked facilities, with adjustments made for unique circumstances.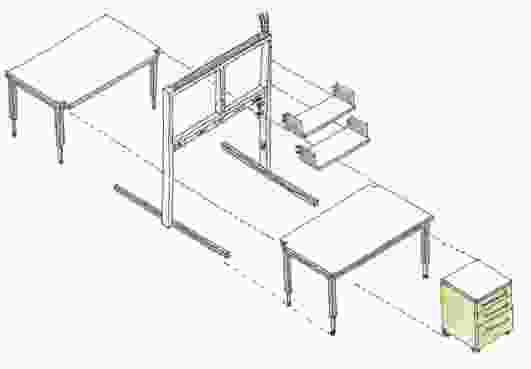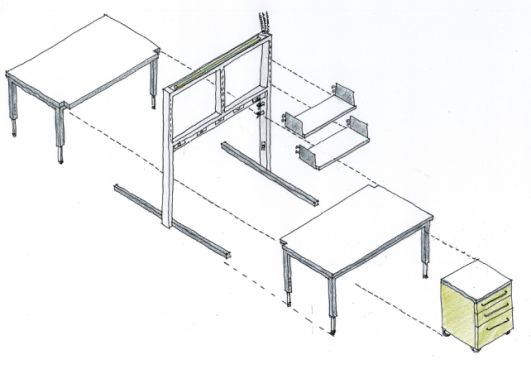 Trend 10: Open-plan high flexibility laboratories
Open-plan laboratories were initially conceived to provide collaborative work environments in which space could be assigned based on need, and access to shared things meant less duplication of those things and the space they required. These early laboratories were indeed flexible when compared to the traditional isolated lab space, and the manner in which servicing was provided to the benches and equipment improved the adaptability when, for instance, a new piece of analytical instrumentation required an electrical or piped service not previously installed.
The evolution of the open-plan laboratory has come to address what is really needed for flexibility and adaptability, with benching consisting of a kit of parts which can readily be reconfigured or removed, and with all services, including exhaust, provided in a repetitive, modular fashion. The construction cost of a highly flexible laboratory is commonly somewhat higher than the cost for less flexible traditional space, but the payback occurs every time a simple change is needed and can be accomplished by the users or facilities personnel, without bringing in the trades, experiencing downtime, inconvenience, and the inevitable delays. How 'open-plan' and 'highly flexible' are defined varies by discipline and project type, and should be included in the goals of every project to ensure the critical design elements which support the goals are not compromised during value engineering exercises or alternate bid considerations.
In summary, the notion which encapsulates all ten trends is that science is ever changing, and the laboratories which support science teaching and research must accommodate change. Because the infrastructure to support change can be costly and in some instances may be rarely, if ever used, careful planning is necessary to determine the appropriate provisions for a given project, and the related costs closely analysed, to ensure a successful long-term outcome.
See more on the SAHMRI building by Woods Bagot.