When thinking about the design for his inner-city Melbourne studio, the client for 106 Flinders Street, an architectural physicist, wanted a soothing space with an atmosphere of sanctuary.
The client initially called on friends Bates Smart design director Kristen Whittle and artisan carpenter Nathan Ray to create a versatile workspace that would not only enhance mental performance, but also function as a meeting and entertainment space when required.
The client had always found the atmosphere of his calm, nature-infused home in Victoria's Dandenong Ranges conducive to formula writing, so he was keen to inject these qualities as well as his affection for Japanese and Scandinavian design into the new studio. Additional needs included a clear corridor in the principle volume ("I like to pace when doing math") and varied acoustics. "The main room has more of a theatre-style acoustic and a slight echo," says the client. "I don't like having to speak loudly to be heard, and I love the sound of the cars going past. [But] when you close the door to the math lab, you can hear a pin drop." Whittle, alongside Grant Filipoff and Johan Hermijanto, ensured all of the client's wants and needs were met by the design.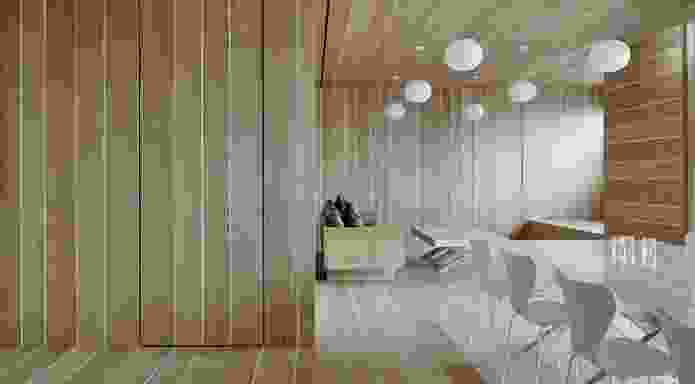 The studio is comprised of a sequence of three spaces. The first space is a completely blackened rear entrance and utility "cave." This zone acts as a grounding "emotional filter," which allows one to "let go of the world" and "feel held," according to Whittle.
Professionally, the client is focused on pushing the boundaries of architectural form and sustainability with greenfield mathematics. "If you don't bring physicists in, you won't be able to solve the biggest challenges we face, particularly in relation to the environment," the client says. For instance, "the biggest challenge faced by the mass construction industry is how to reduce concrete production, and stop ripping lime from the earth," he says.
Fittingly, care was taken to minimize the studio's environmental impact. Douglas fir was selected as a handsome, sustainably farmed timber that would convey the desired qualities of warmth, calm and nature. Wastage was kept to a minimum, with off-cuts crafted into furniture and door handles. The studio's airconditioner, a gifted Mitsubishi pilot model, "is the most energy efficient in world," according to the well-connected client. And the simple, raw aesthetic meant synthetic chemical-based finishes were not needed.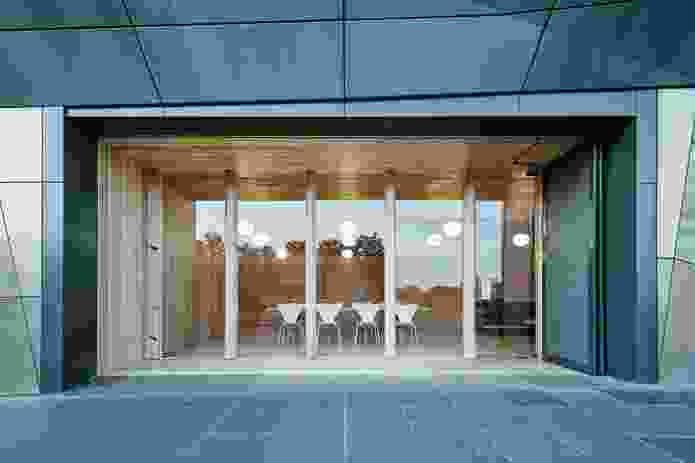 Despite its chalky, expressed joints, the main volume embodies a comforting seamlessness, achieved through the Douglas fir wrapping the floors, walls and ceilings, and the poetic attention given to plank orientation and accented line. When looking into the building from the footpath, the main hub/lounge appears surrounded and clearly defined.
The lightly oiled, rough sawn timber lengths were carefully arranged, with respect given to grain and subtly varying hues. The wood's more typical orange tones are softened during certain parts of the day. "When the sun hits the planks it can turn them a bit salmon," says the client.
In a project like this, where material and colour palettes are so stripped back, refinement comes from superior craftsmanship and design. "Very few drawings were produced," says Whittle. "Rather, the space evolved collaboratively between architect and craftsman." When not in use, technology and other bits and pieces are concealed behind a wall of near-invisible cabinetry, demonstrating Ray's artisanal handling of the wood.
The skills of all those involved, together with a common interest in exploring the emotional and neurological impacts of architecture, has produced, as Whittle says, "a space that induces calmness, wellbeing and creativity [while signalling] what the future of work could be."
Products and materials
Walls and ceilings

Douglas fir pine in Intergrain Ultra Clear in Satin finish.
Windows and doors

Full-height pivot doors with solid timber Douglas fir pine panels mounted on steel frame on both sides.
Flooring

Douglas fir pine in Intergrain Ultra Clear in Satin finish.
Lighting

Jasper Morrison Glo Ball lights by Flos.
Furniture

Table and coffee table custom made by Nathan Ray. Sofa from Mark Tuckey. Fritz Hansen Series 7 chairs.
Credits
Design practice

Bates Smart Melbourne
Melbourne, Vic, Australia
Project Team

Kristen Whittle, Grant Filipoff, Johan Hermijanto, James Murray-Parkes, Nathan Ray
Consultants

Builder Nathan Ray, Brookfield Multiplex Engineering Innovations Group
Engineer Joel Drew, Brookfield Multiplex Engineering Innovations Group

Site details

Location Melbourne, Vic, Australia
Site type Urban
Category Interiors
Type Workplace

Project Details

Status Built
Completion date 2015
Design, documentation 4 months
Construction 5 months

Source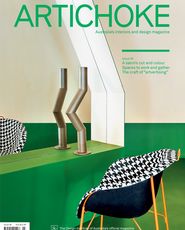 Issue
Artichoke, September 2016