A redevelopment and expansion of a visitor centre on a barramundi farm and hatchery has been completed in Karumba, a remote town near the Gulf of Carpentaria in Far North Queensland which at the 2016 census had a population of 526.
Designed by Brisbane-based practice Bud Brannigan Architects, the new Les Wilson Barramundi Discovery Centre, due to open in February 2018, will offer an interpretive experience that will "tell the story of the southern gulf barramundi to visitors."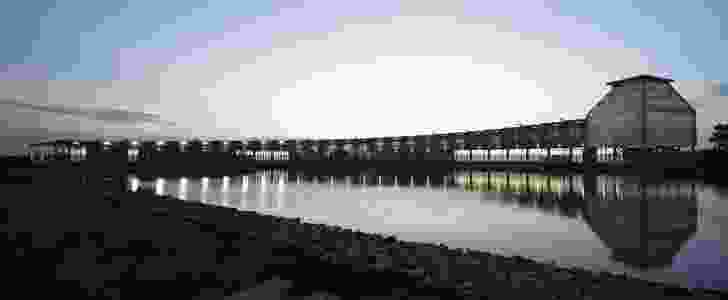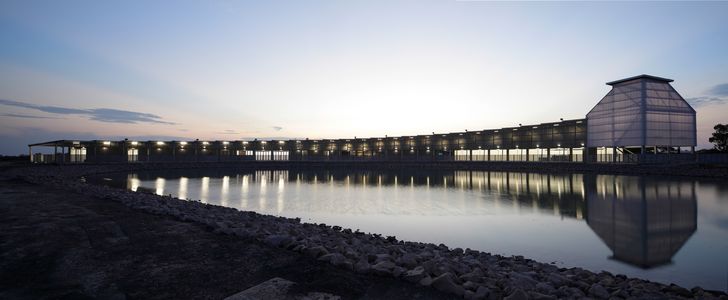 Karumba is a popular destination for recreational fishing and the only hatchery in the world that breeds the southern gulf barramundi.
The centre will also offer visitors the chance to fish for barramundi and will include a souvenir shop, a restaurant and a conference centre.
Lead architect Bud Brannigan states that the design for the centre's simple plan and structure derived from a consideration of the barramundi itself, as well as an appreciation for the harsh local conditions.
"Karumba is remote, a corrosive environment, and often subject to extreme weather events, requiring a robust materials and assembly strategy for the building," he writes in a design statement. "The structure comprises a series of prefabricated skeletal steel portals set out on a regular radial grid, connected on site, onto which standard framing and metal external cladding is applied, simplifying construction."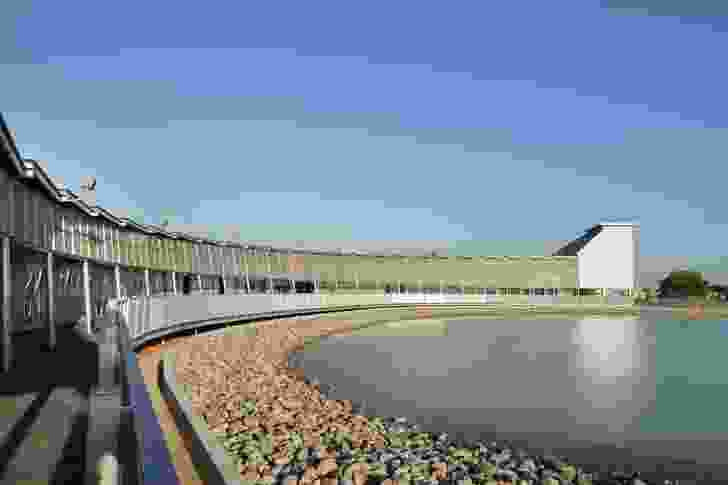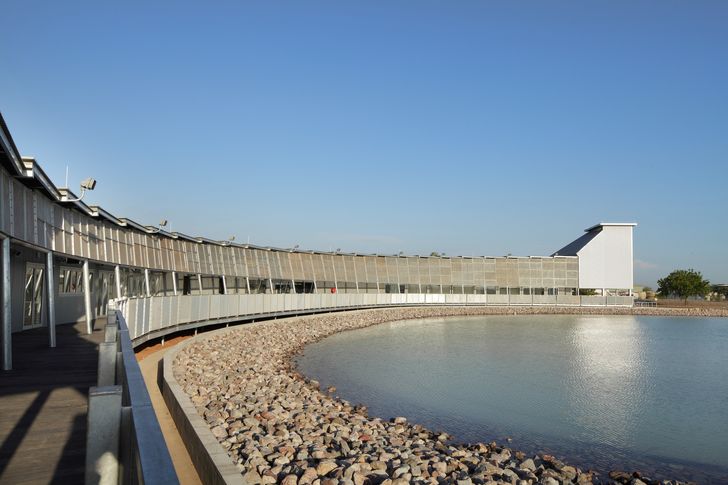 The 130-metre-long building is suspended a metre from the ground and takes the form of a linear arc, which wraps around a 2,500 square metre growing pond. The building increases in height from the southern to northern end, where a pitched-roof tower covers an external arrival and gathering verandah.
The pond contains several thousand young barramundi from the hatchery. On the pond side of the building, a continuous verandah shaded by a perforated metal screen provides external circulation and access to internal spaces and to outdoor pathways.
The centre is made from 87 tonnes of structural steel, 11, 000 bolts and 50 tonnes of hardwood joists to form the floor frame.

Predominately funded by the Queensland state government's Building Our Regions program, with additional funding from other state government departments and council, the project is intended to draw students and tourists to the area, while also providing jobs and a community meeting place for the local population.
The Carpentaria Shire council estimates the centre currently generates around $2.6 million in gross regional product each year and expects this to increase with the expansion of the Barramundi Discovery Centre. The project is also expected to generate new opportunities for council to partner with the tourism, retail, fishing and education sectors, including James Cook University.
The centre will be open to the public in February 2018.