Over two days in September 2013, seventy Sydney students, architects and builders collaborated in a design-build-engage project to turn an empty lane into a temporary community garden for the One to One: Re-frame studio and Beams Art Festival in Chippendale.
On 20 September 2013, one of Sydney Corporate Park's massive car parks in Alexandria found itself host to a barrage of 70 architects, students and builders all working side by side. The phenomenon was part of this year's One to One Studio, a now national event, which was started in NSW in 2011 by DARCH (the NSW Emerging Architects and Graduates Committee of the Australian Institute of Architects) to help breach the void between students and architects through a collaborative fast-paced design exercise.
The original pro forma – to transform an empty warehouse to a temporary bar within a day – had been so successful in 2011 and 2012 that the new team in New South Wales decided it was time to expand the collaborative intentions of the event further. Essentially this concerned including the public and local community organizations within the build's intentions, brief and scope. This new direction directly aligned itself with two major points of feedback from previous years, the longevity of structures post-event and the bars short shelf life of just a single night's existence within the "archi-bubble." In response, the new One to One Re:frame NSW was dissected into a three-part event, with each part having a specific purpose: The Build; The Public; and The Community. It was hoped that splitting the event would utilize the generosity of event sponsors and contribute beyond One to One by giving back to community organizations, which directly help transform and contribute to Sydney's urban environment.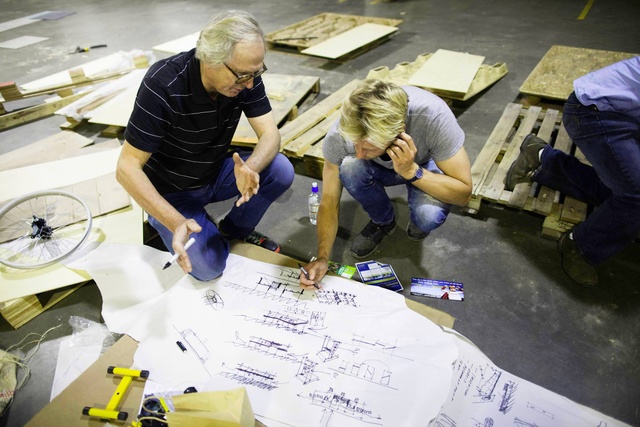 Part 2, The Public comprised a collaboration with Beams Art Festival, an event run by the Chippendale Creative Precinct who annually activate a cross-section of Chippendale's streets and laneways into a vibrant live music, art and dining experience. Their philosophy is to reprogram the streetscape to facilitate a lively sense of community and bring upwards of 15,000 people through the buzzing suburb each year.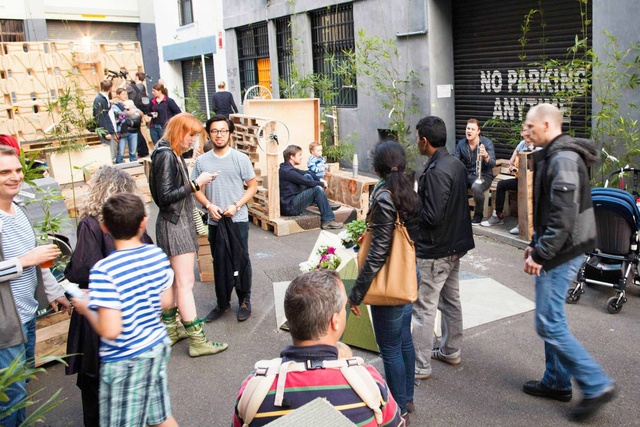 The NSW team were to utilize the creations of One to One to form one of the festival's major installations, taking over Henrietta Street and transforming it into a habitable community park. The One to One project brief challenged each team to design a "habitable mirco-pavilion." Teams were of 1:1 ratio, three architects paired with three students, and a builder from Lochbuild. The brief emphasized the public interaction aspect, and a potential to green the street. The final installation of ten pavilions collectively held over fifty plants from Mr Bamboo and projected a timelapse of the seven-hour build exercise onto an industrial roller door to an audience active children, intimate socialization and impromptu jazz bands.
Part 3, The Community, considered the life of the pavilions after the build and their assimilation into the surrounding community. After the festival, pavilions with potential longevity were transported to their new homes dotted around the suburb. If you wander Chippendale today you can find them forming an outdoor social classroom space at Work-Shop (a communal space offering short diverse courses for the public), as street furniture outside House Cafe, and providing planter boxes within NG Art Gallery.
The ambiguity of the structures prior to the build meant community groups couldn't confirm exactly what they would be receiving before their relocation, which was part of the event's ambition – to not focus purely on design and the built outcome, but to also harness the collaborative process.
Each year the One to One team is composed of fresh faces, given this push toward community outcomes it will be exciting to see what next year's teams take on. All in all the new scope of the event fits comfortably with the rising trend of shared design principles and grassroots temporary community activation, which has been catalyzed in Sydney streets over the past few years.
Time lapse video of construction by Tim Hastwell. One to One Re-frame (20–21 September 2013) was organized by DARCH (the NSW Emerging Architects and Graduates Committee) and SONA (the Student Organised Network for Ar) of the Australian Institute of Architects. On the 2013 team were: Albert Quizon, Nicola Balch, Angus Hardwick, Regan Ching, Tom Chan, Tim Hastwell, Edward Rosier, Peter Nguyen, Lucas McMillan and Michael Baker.