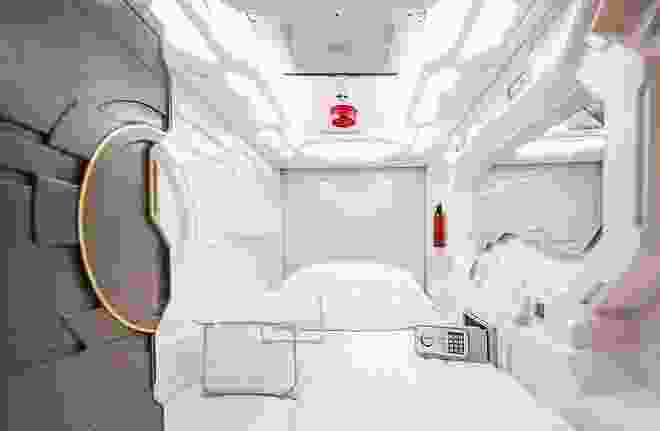 Australia's first capsule hotel, which offers accommodation in single- or double-sized, fully enclosed capsules, has opened on George Street in the Sydney CBD.
The capsule hotel is located in the premises of a former backpacker hostel above Bar Century, which has reopened after closing in 2016. At the time, the business owner blamed rent increases and the NSW government's lock-out laws for crippling nightlife in the CBD and, by extension, the bar's financial viability. Interior design studio Giant Design Consultants was responsible for refitting both the bar and for the design of the hotel.
The project's lead designer Chris Wilks said that the initial designs the practice produced didn't call for totally enclosed, lie-down capsules. "We weren't initially thinking capsules themselves, [but instead] semi-enclosed joinery constructions that might have an open face but otherwise would just have a panel that could be drawn to make it private," which he believed would be "less intimidating" to customers unused to the idea of a capsule hotel.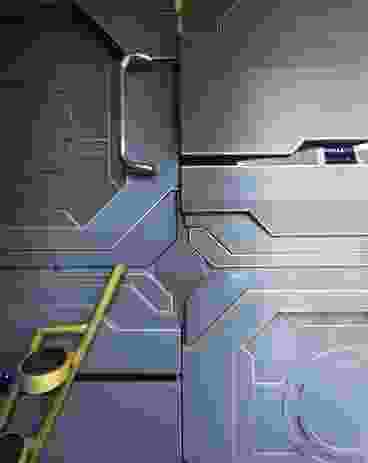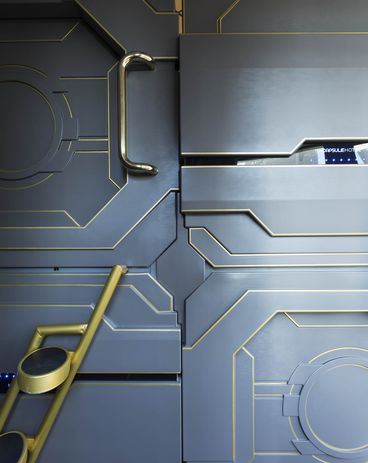 "In the end the client had his heart set on these particular capsules."
The capsules themselves were imported from a Chinese manufacturer. Wilks said that the challenge for the designers was to integrate the "white and bright, 2001: A Space Odyssey" appearance of the capsules with the Art Deco Interwar interiors of the building.
Wilks noted that the building had more in common "with the sort of things you see in hospitals from the 1930s," than with the "streamlined glamour" people might think of when envisaging Art Deco. The design treatment had to be simple to meet heritage requirements, "then once that [was] done we threw in the future, which [in the case of] these capsules come from another time and space," which ultimately involved cladding the capsules in a "The Great Gatsby-esque, golden, pinstriped" facade, in reference to the 2013 Baz Luhrmann-directed rendition of the novel by F. Scott Fitzgerald.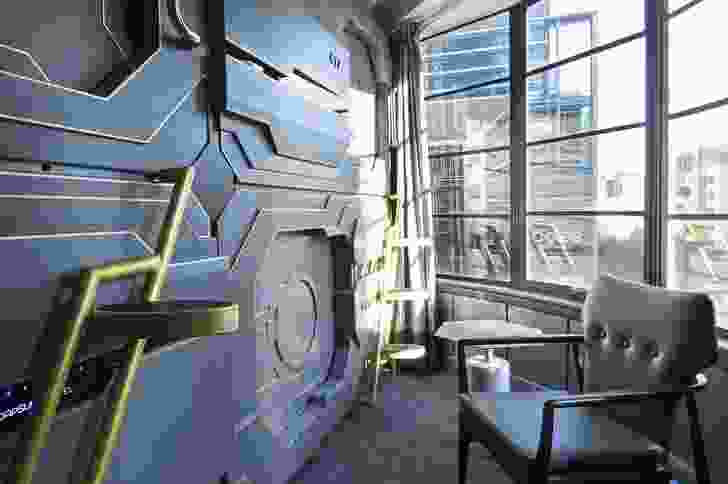 Wilks described the design as "historic, [but] not necessarily true to that period."
Capsule hotels have their roots in the Metabolist architectural movement. The first capsule hotel, the Capsule Inn in Osaka, was designed by architect Kisho Kurokawa and opened in 1979. Kurokawa was the also the architect of the Nakagin Capsule Tower in Tokyo (built in 1972), one of the buildings most emblematic of the Metabolist movement, which he helped found in the 1960s with a group of Japanese architects that also included Pritzker Prize laureate Fumihiko Maki and Kiyonori Kikutake. In Australia, Kurokawa was responsible for the Melbourne Central shopping centre complex, designed with Bates Smart and McCutcheon and Hassell, completed in 1986.
Related topics