Ambitious, inventive, speculative and socially committed, the premiated projects in this year's AA Prize demonstrate a fascinating diversity of architectural engagement. They show the potential of the unbuilt project and point to future possibilities.
JURY

Shane Murray
Foundation Professor of Architecture, Monash University

Laura Harding
Hill Thalis Architecture + Urban Projects

Brian Zulaikha
Tonkin Zulaikha Greer

Philip Follent
Queensland Government Architect

Justine Clark
Editor, Architecture Australia
Winner AA AA Prize for Unbuilt Work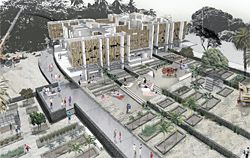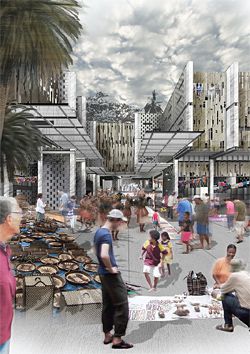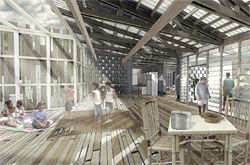 Landscape Urbanism, Port Moresby
Michael White
JURY CITATION

This project is an inspirational proposal for addressing the current housing crisis in Port Moresby, New Guinea. Faced with a growing urban population as a consequence of people migrating from rural areas into the city, the local government has developed an urbanization policy that recognizes the necessity of integrated social and economic infrastructure within any physical housing solution. Located between an established urban village and an informal settlement, this project explores several approaches to low-income, sustainable housing in this charged context. The project utilizes a range of low-tech local building practices to achieve an effective social and environmental outcome. These techniques are combined with off-site manufacturing of service pods, the production of which also facilitates employment opportunities. A range of simple architectural armatures create self-build opportunities and accommodate various housing functions, from short-term accommodation of migrants moving into the city to permanent residences and accommodation for volunteers and eco-tourists.
Sympathetic to its climatic and social context, the architecture is skilfully integrated within its landscape and open-space condition to also provide informal markets, community gardens and a learning hub. This beautifully rendered project demonstrates the contributory possibilities of architecture when critically entwined with its community.
ARCHITECT'S DESCRIPTION

Port Moresby, the capital of Papua New Guinea, has an urban housing crisis stemming from high migration of people from rural areas to the city. In order for new communities to thrive, attendant social and economic infrastructure services need to be introduced. This project focuses on the environmental and social sustainability of the area in providing crucial services.
The site is near two villages and nearby settlements that urgently require new service infrastructure such as informal markets, farmers' gardens and a community learning hub, which is already planned within a new urbanization policy. A series of low-tech building techniques are implemented over a number of construction stages. Terracing the hill slope prepares the site for imminent development. Retaining walls use gabion construction techniques and stones from cut-and-fill excavations. Stormwater management is used to recycle rainwater and grey water. Hit-and-miss concrete blockwork walls, a construction technique used within local building practice, allow for flexibility of building time versus available funds over an extended period, with a porous surface for much-needed cross-ventilation in this hot climate. As the kitchen and bathroom facilities are the most expensive investment for residents, prefabricated service pods are constructed by local industry workshops for efficiency and better quality control.
Papua New Guinea was once governed by Australia, until independence in 1975. This relationship has generated architectural enquiry into the role of an Australian architect in PNG. As with many post-colonial countries, the recent social and economic impact of Australia's part in the governing of PNG has resulted in traditional territories being pressured by the influences of developed countries. This has intensified the urban housing crisis in Port Moresby. My overall research question for this project has been: How can architecture contribute to the development of a framework for the provision of sustainable low-income housing and its attendant social and economic infrastructure in Papua New Guinea? This project begins to explore the complex cultural overlap between Australia and PNG and demonstrates that there are opportunities for exchange of architectural ideas and enquiry into new sustainable and economical low-income housing typologies.
Honourable Mention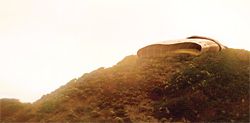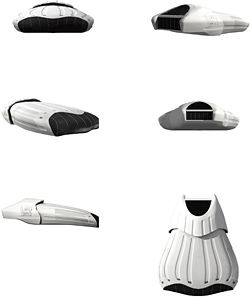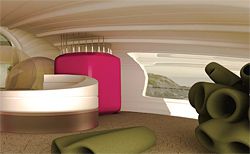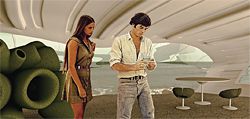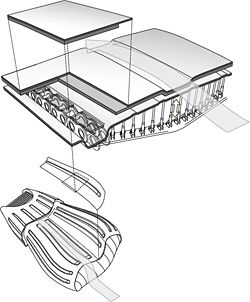 Blowhouse: Life Support Unit
Paul Morgan Architects
JURY CITATION

This project impressed the jury because it was very much in the spirit of the unbuilt project as a polemical and speculative undertaking that challenges our thinking about architecture. The blowhouse is conceived some twenty years into the future when global warming has had a disastrous effect on Australia, which finds itself in a state of cataclysmic drought.
Located on the coast of Victoria, the building eschews the romance of the holiday house. Rather than settling into a benign relationship with its coastal setting, the house utilizes the prevailing winds of the immediate environment to mitigate the harshness of the projected environmental degradation of 2030.
The house is literally kinetic and the wind is harnessed to manipulate the streamlined skin of the building, which transforms this kinetic environmental action into electrical power via solenoids attached to the building's skin. In addition, a suite of wind turbines and photovoltaic cells combine to create an energy-neutral architecture in which to shelter from this new climatic reality. Described as a life support unit, the building's form presents as an intriguing integration of the biological and the retro-futurism of James Cameron's Aliens.

ARCHITECT'S DESCRIPTION

The year is 2030. Climate change has affected Australia's environment dramatically – the interior desert now meets the south-east coast. Average temperatures have increased, the sea level has risen and rainfall has dropped. Many animal and plant species are now extinct. The island continent is in terminal drought.
Our blowhouse is an energy-neutral "life support unit" (LSU). As with other future dwellings, we have taken a "terraforming" approach, creating a survivable micro-ecology. Sited adjacent to The Blowhole promontory on the Mornington Peninsula, the bioengineered blowhouse utilizes the environment's kinetic potential. It is a kind of lung.
Analysing the wind velocity and pressure on the site and LSU, the design team created a surface of constant velocity that reduces local high pressure concentrations on its skin, thus reducing the amount of structure and embodied energy required by relying on shape, not mass.
Three energy sources generate energy over different cycles.
A. The streamlined skin is curved in section, creating uplift. Prevailing winds constantly, gently raise and lower the skin. In effect, the blowhouse is breathing. A semi-rigid pneumatic exoskeleton is filled with air and enclosed in a recycled rubber double skin and a secondary layer of composite foamed wood insulation. Piezoelectric solenoids on the underside of the roof transform energy produced by the roof's movement into static electricity.
B. The streamlining also supplies air to linear wind turbines.
C. Photovoltaic cells on the rear louvres generate energy from solar radiation.
Rainwater is harvested from flutes on the shell and directed into an internal glass water tank in the kitchen "bridge". Kept around 21 degrees, this water ambiently helps maintain the internal air temperature. A heating element sourced from the photovoltaic panels keeps the water warm during the cooler months.
The blowhouse is open-planned and intergenerational. The three bedrooms are plastic bubbles, inflated at night and attached to external windows. They are surrounded by fixed pods which contain bathroom, clothes room (shared) and laundry/store/utility room. The kitchen is the "bridge" of the LSU (as in ship's bridge). It is the locus of the blowhouse, both in terms of survival (food preparation, water) and in the symbolism of the internal water tank.
Project team
Paul Morgan (design architect), Peter Felicetti, Pietro Gellona, Melissa Thong with Andrej Vodstrcil, Duncan Taylor, Yau Ka Man and Jo Scicluna.
SPECIAL MENTION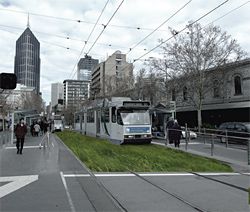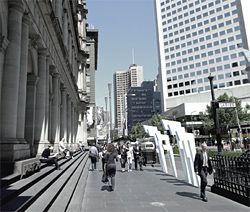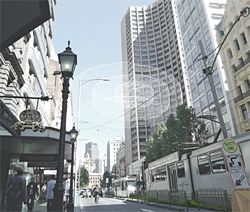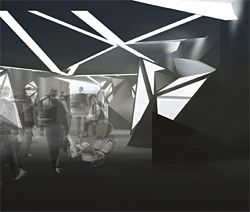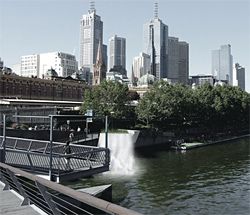 Uncovering Williams Creek
Cliff Chang
JURY CITATION

This proposition aims to redeem the environmental health of a once natural waterway which is now a polluted drain beneath Elizabeth Street. In so doing it aims also to revive the once more noble status and memories of water within this part of Melbourne. A series of seven interventions along the length of the street fulfil the mechanical and physical treatment and monitoring activities. Their other role is to unearth, to demystify and to entice public interaction with nature. The proposition thoughtfully integrates light projection, sound and tactile experience with the physical interventions, each with their own identity, to mark special moments of introspection, discovery, taste, touch and joyous observation during one's journey along the big street.
This is a skilful proposal which balances the sometimes controversial references to far from perfect environmental husbandry with an optimism to entwine today's city life in an uplifting way with a rediscovered nature and history. It is hoped that political will can enable this unbuilt proposition to become a built reality for all of Melbourne to celebrate.


ARCHITECT'S DESCRIPTION

Below Melbourne's Elizabeth Street flows a body of water known by many names – at one time, Williams Creek. Today, it is the city's main drain, completely hidden from the public and the single largest contributor to pollution along the lower Yarra River. Williams Creek is sick.
This project aims to redeem and heal the city's relationship with Williams Creek through the creation of an urban wetland: a hybrid natural system, which fits within the existing systems of the city as a new layer, a profuse green sprouting along the spaces between tram tracks.
Alongside the urban wetland, a series of watering holes are proposed. These watering holes comprise both social and mechanical functions, supporting the wetland's function.
Mechanically, pumps, filters and tanks syphon water from the city's storm drains to be purified in the wetland.
Socially, the wetland creates discursive public spaces, remembering histories and providing an outlet for the desires and dreams of a waterway, a city street and its people.
Project team
Cliff Chang, Feng Feng Chen, Dr Janet McGaw (University of Melbourne supervisor).
SPECIAL MENTION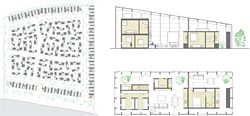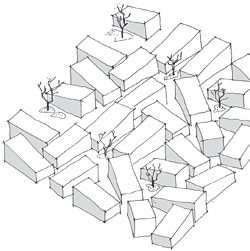 Make me a Home, Northshore
Tribe Studio
JURY CITATION

This proposal challenges us to reconsider our image of suburbia, albeit in an English context. The project engages seriously with its environment – both the cold, damp climate and a range of existing housing typologies – and proposes a light, spacious suburban housing model. It explores flexible spaces, both inside and out, as a means of accommodating shifting demographics.
The site is ringed with mixed-use and residential buildings, placed to protect the new suburb from inclemency and ugliness and to allow sunlight to penetrate. The living spaces are housed within greenhouses, with walls and roofs working to collect water and harness power; in winter they create a warm microclimate and in summer they allow cooling, ventilating enclosures.
The proposal is provocative and playful and is reminiscent of the Italian hillside town, re-created on a dull, flat plane. The whole area is pedestrian-friendly, with residents' car parking located underground. As a result, the landscaped avenues, pathways and occasional communal spaces between the greenhouses create places for residents to meet and children to play. While questions arise as to whether the proposal adequately addresses issues of privacy, it genuinely opens the debate for a reconsidered typology.


ARCHITECT'S DESCRIPTION

The brief called for a new individual housing typology. Located on the River Tees, in Stockton-on-Tees, Middlesbrough, UK, the project addresses a cold, wet climate rarely topping 20 degrees, a tradition of working-class row houses and house-and-garden residential types, and a postwar legacy of council housing.
To the north of the site is industrial land, to the east a large sporting complex, to the west a future residential area, to the south a riverfront lineal park. Across the river is a wall of four-storey apartment buildings and a university campus.
The plan includes mixed-use buildings, individual and attached houses. Apartments form a protective ring on the north, south and eastern edges. These are six storeys on the northern, most hostile boundary, sloping down to four at the river's edge. Within huddle individual and attached houses in a cluster pattern. Their scatter-siting creates a network of small parks and intimate pedestrian spaces. Community services – a riverfront library, childcare and community centre and retail development – are included along the peripheral walls.
The houses and apartments are conceived of as greenhouses for people – wedge-shaped boxes of translucent insulation. These thermal skins enclose black masonry boxes, which house the private functions of living. The skin acts as a solar collector and the internal thermal mass stores the heat for slow release overnight. This reduces the need for heating, which allows lofty, large internal spaces.
Public activities – living, dining, cooking, socializing, growing – occur in the spaces between black boxes. The garden has been invited indoors and these indoor spaces have become a hybrid of internal and external functions. In a cold, wet climate, residents can live in bright, spacious, warm houses.
The large monopitch roofs collect rainwater and solar energy, which supplements the passive thermal design with wet-backed fireplaces. In summer, the houses are cooled by cross- and stackeffect ventilation, and adjustable shading devices. Large portions of the outer skin can be opened, in the roof and wall planes, to create a truly ambiguous sense of house and garden.
The project creates an enriched series of in-between spaces. Residual spaces in the scatter plan form lovely pocket parks and intimate pedestrian squares. Inside houses and apartments, void spaces are flexible, spacious, light-filled and quasi-external: very unusual for this part of the world.
Project team
Hannah Tribe (project leader), Aaron Murray, Jo Hurley, Monica Earl, James Garvan, Carla Middleton.
SPECIAL MENTION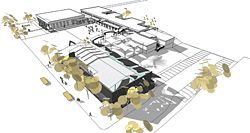 Parkhill Primary School
PHOOEY Architects
JURY CITATION

Producing architecture for government schools is difficult, despite the best intentions of all involved. Budgets are extremely tight, timing is very short and government processes can be mystifying. In this highly constrained context PHOOEY has developed a scheme that insists that wit and ambition have a role to play in educational buildings, while also meeting pragmatic requirements.
The scheme proposes bringing the silhouette of the Sydney Opera House to suburban Melbourne, courtesy of the Federal Government's Building the Education Revolution program. While the jury was slightly bemused by this move, we were also intrigued by the bravado and commitment demonstrated – why shouldn't a Melbourne suburban school have its very own Opera House?
The scheme uses limited means to cleverly expand the educational spaces and opportunities of an existing school hall. Wrapping the hall in a new screen facade generates useful and engaging intermediary spaces. Offcuts and waste materials are reused to form an entry archway. The striking new elevation and the offcuts gateway combine to lend a strong visual presence to the school and the facility.

ARCHITECT'S DESCRIPTION

This project transforms the Roger Beech Hall at Parkhill Primary School into a performing arts centre. Alterations and additions to the existing multipurpose hall provide a performing arts classroom, music practice rooms, changing rooms and a culinary classroom. These internal spaces open to verandah areas for flexible learning. A performance theatre is created by opening the hall (audience seating) to the performing arts classroom (stage with back of house).
This project was for Round 3 (non-template buildings) of the Building Education Revolution under the Australian Government's Economic Stimulus Plan. To receive funding, the brief required design, development and documentation under budget, with school council and government authority approvals, within eight weeks.
The Parkhill Primary School motto is nurturing success – creating opportunities to develop every student's experiences. But what contribution do nature and nuture make? Would Jesus or Hitler be re-created if they were genetically cloned? What if you cloned the Sydney Opera House – a place where young musicians, dancers and actors dream to perform? Would it be an exact replica? If the iconic form remained, how would suburban Melbourne nurture the building's experiences differently?
Developed in the eighteenth century, the silhouette was an inexpensive, quick alternative to portrait painting. At Parkhill Primary, the iconic form of the Opera House is cut out of the blank screen facade, casting shadows inside. The opening produced by the reverse silhouette creates a proscenium between stage and audience. A functioning building backdrop becomes the stage set for students' performing arts. At the neighbouring high school performing arts centre (a giant shed), the only recognizable feature is the signage "Performing Arts Centre". At Parkhill Primary, the architecture of the proscenium silhouette performs this signifying role to visitors.
Leftover and offcut materials become part of a process of design feedback – waste is salvaged during construction, reprogrammed and relocated as functional and decorative components. The design and construction process is performed like a musical prelude. The final verse crescendo is when the last relocated cut-out forms the entry archway for the Roger Beech Hall Performing Arts Centre at Parkhill Primary School.
This scheme was shelved during week five of eight.
Project team
Peter Ho (design principal), Emma Young, Lucy Williams, Rob Chittleborough, Chris Evans.
SPECIAL MENTION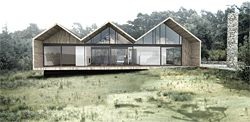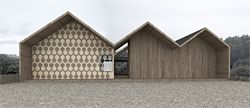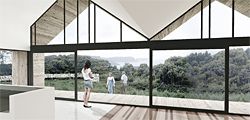 Peninsula House
Room 11
JURY CITATION

We were ambivalent about awarding a special mention to a detached house in a glorious landscape setting, given the substantial freedom that this building type already enjoys in established architectural practice – yet the Peninsula House intrigued us.
This project sets up a curious tension between two established residential typologies – the farmhouse and the courtyard house. One symbolizes romantic notions of architecture's relationship to landscape; the other, an inwardly focused residential model, is more typically a response to an urban situation.
While acknowledging that the submitted materials give little hint at the intended resolution of finer scale detailing issues with the proposed roofing system, or the handling of the environmental impacts of the substantial areas of glazing, we felt that this paradoxical fusion of type set up a rich and complex relationship between project and landscape – one that shifts between contemplation and spectacle, intimacy and drama, prospect and refuge.

ARCHITECT'S DESCRIPTION

Positioned on a previously cleared site, with views towards Tasman Island and the Southern Ocean beyond, this project takes the farmhouse typology and transforms it into a hybrid courtyard house. Visitors enter through a covered threshold, experiencing views into the treed courtyard and the sea beyond, before venturing into the main living space where the full panorama unfolds. Three gable roof extrusions define functions within, each with particular relationships to the courtyard and specific views to the surrounds. The extruded form pushes beyond the building envelope, providing covered outdoor living spaces.

Project team Thomas Bailey, Nathan Crump, Aaron Roberts, James Wilson.
SPECIAL MENTION


The Urban Worm
Welsh + Major Architects
JURY CITATION

Suburban housing is increasingly disconnected from contemporary living patterns. How can these large, energy-dependent structures accommodate an ageing population, single-parent families or stay-at-home twenty-somethings unable to claw their way into the rental or housing markets?
This small-scale proposal infiltrates established suburban fabric. Colonizing a 1.6-metre zone along each side of the dividing fence, it weaves and folds to produce a series of 3.2-metre-deep spaces suitable for the affordable construction of studios, home offices, sheds, greenhouses, "Fonzie flats" for students or places for elderly relatives.
The fine-grain nature of this intervention makes it highly responsive, allowing for the retention of existing mature trees or garden structures. Its key benefit is that it retains the suburban garden, but reinforces it with an additional built edge.
While not a panacea for our suburban woes, this proposal intelligently posits that small, shrewd interventions can make critical improvements to our suburban building stock in the short term.

ARCHITECT'S DESCRIPTION

The Urban Worm is a concept that allows sharing across a 1.6-metre zone of each suburban block, allowing 3.2 metres of habitable space (a figure arrived at as it will accommodate a queen size bed). This would make feasible a multi-generational family living on one block. It could also create a second income stream. It could be a home office. In short, it could be many things. By adding a simple clause to the NSW Dividing Fences Act, the legislative framework to allow this building type to exist could be created.
Having two active buildings on the block encourages a better use of outdoor spaces (a courtyard house of a sort is created). It may encourage better use of smaller buildings as the outdoor space becomes an active part of the home. If used as a new building model, it offers a realistic model for a smaller, multi-user housing model.
Project team
David Welsh, Chris Major, Corey Diffin, Daisy Cho.