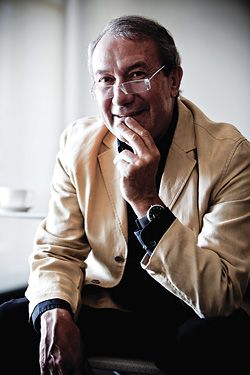 The architecture of engagement. Celebrating Ken Maher, recipient of the Institute's highest honour, with tributes by Elizabeth Farrelly, Helen Lochhead, Philip Thalis and Matthew Pullinger.
JURY CITATION

The Gold Medal is the Australian Institute of Architects' highest accolade. It recognizes distinguished service by Australian architects who have designed or executed buildings of high merit, produced work of great distinction resulting in the advancement of architecture, or endowed the profession of architecture in a distinguished manner.
Ken Maher has excelled in all areas. He graduated from the University of New South Wales with First Class Honours and the RAIA prize for design, and with others won equal second prize in the international competition for the Pompidou Centre in Paris. During the ensuing thirty-eight years Ken Maher has played a leading role in our profession, most specifically in his role with Hassell since 1993. His projects have won prestigious awards including RAIA Merit Awards, the 1988 Canberra Medallion, the 1995 Lachlan Macquarie National Architecture Award, the Sir Zelman Cowen Award in 1998, Sulman Medals in 1998 and 2002, and national AILA awards. He has won a number of national and international competitions, is a respected design jury member, a teacher of design and currently Visiting Professor in Architecture at the University of New South Wales, and writes regularly about architecture. He has actively contributed to his profession, serving on numerous Institute committees and juries, as editor of the Architecture Bulletin in the 1980s, leading the NSW Chapter in 1993–1994 and serving on National Council's Executive in 2000–2002.
Ken Maher's tertiary education spanned architecture, landscape architecture and environmental studies, and his career reflects a lifelong interest in the bigger context of urban design, landscape setting and better buildings. As a director and now chairman of Hassell, he has broadened the firm's horizons and through responsible delegation and mentoring has provided relevant opportunities and enhanced skills to those working with the practice. With Hassell he championed design and collaboration, supported emerging talent and the practice's growth into Asia.
In design, Ken Maher's attention is firmly focused, from public policy in the broadest sense to the specifics of an individual building. His urban design projects result in memorable, popular spaces such as the restored Luna Park in North Sydney and the Chifley Square and Cafe in Sydney's CBD. Many recall the journey through the Olympic Park Railway Station not only for being part of the crowd but for its spaces and ambience. His National Institute of Dramatic Art buildings in Sydney transformed a typical education complex into an inspiring venue for live theatre. Overseas he has provided the concepts for an innovative new sustainable city centre in Ningbo, China and leads the design team for the new underground railway station in Singapore. Currently he is designing a vast new workplace for the ANZ Bank at Melbourne's Docklands.
Many architects agitate on public issues, but few can drive change as positively and constructively as Ken Maher. As chair of the NSW Premier's Urban Design Advisory Committee, the complex negotiations he resolved between government and the various stakeholders were impressive. A major outcome was SEPP 65, which requires the involvement of an architect for larger, denser residential projects and ensures measurable design and environmental outcomes.
In recent years Ken Maher has served on the City of Sydney's Public Art Advisory Panel and chaired its Design Advisory Panel, where his influence has allowed wisdom and commonsense to dominate the proceedings. He was a founding director of the Green Building Council and is a recent appointment to the new Commonwealth Innovation Council for the Built Environment.
Ken Maher is a masterful collaborator and negotiator, with a calm and considered manner. His ability to identify the important issues and chart a clear course through conflicts has served the public interest on numerous occasions. His projects and our profession clearly benefit from not only Ken's creativity but also his intelligence and civilized demeanour.
The Australian Institute of Architects recognizes and honours Ken Maher as the 2009 recipient of the Gold Medal.

Jury: Howard Tanner (chair), Greg Howlett, Richard Johnson, Alec Tzannes, Elizabeth Watson-Brown.
Only Connect