The 2010 AA Prize for Unbuilt Work asked entrants to speculate on the contributions architecture might make to developing sustainable buildings, environments and practices. The projects submitted in response covered a wide range of approaches, scales and programs – from Big City's undersink domestic waste processor, to massive urban plans, from seriously pragmatic, carefully considered schemes that ticked all the boxes and could be built tomorrow, to a highly provocative proposal that critiqued the whole premise of the theme and the prize (thanks, Andrew Maynard Architects). Overall, the jury was surprised to find fewer highly experimental, propositional entries than expected. We were pleased, however, that two entrants used the prize as an opportunity to present alternative solutions in response to the urban controversies in their own cities. Save Me! by 10M Architects (in association) was a heartfelt plea on behalf of 10 Murray Street in Hobart, currently under threat of demolition, which showed how the building facade might be retrofitted. The engagingly named DE-Campus / RE-Socialise: BarangaWooHoo! was Welsh + Major Architects' argument for a fine-grain urbanism on Sydney's Barangaroo development site, currently the subject of much controversy. Many entries explored housing in some way or other, identifying this as a particularly pressing issue, although the jury was bemused by a number of entries which made written claims in the direction of mass housing, yet presented the projects visually as single houses in idyllic "natural" settings.
As in previous years, the mix of premiated projects points to the breadth and richness of architectural work and to the range of possible responses within the discipline. After much deliberation and detailed interrogation of the many entries, the jury awarded the 2010 AA Prize for Unbuilt Work to Footscray Fresh + Cheap, by Helen Duong, a project that is both speculative and viable, which articulates broad ideas of what sustanability might be, while skilfully demonstrating how the discipline might effectively engage with existing built environments and communities in ways that develop new opportunities for both the built fabric and the community.
This is the first year we have set a theme for the AA Prize for Unbuilt Work. We will continue the thematic approach next year, and are currently developing this around the topic of housing. Look out for the announcement and details in the May issue of Architecture Australia, which will be a special issue on the topic, designed to get everyone thinking and drawing for the 2011 AA Prize.
Jury
Natasha Palich, Sense Architecture
Ceridwen Owen, University of Tasmania
Carey Lyon, Lyons
Robert Stent, Hayball
Geoffrey London, Victorian Government Architect
Justine Clark, Editor, Architecture Australia
Source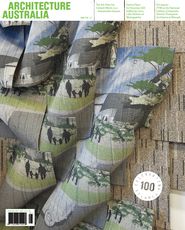 Issue
Architecture Australia, January 2011
Related topics