The winner of the Outdoor category was Garden of Ghosts by Terragram and Allen Jack + Cottier (New South Wales).
Receiving high commendations were Jane's House and Garden by Taylor Cullity Lethlean (South Australia), Mulberry Cottage by Eckersley Garden Architecture (Victoria), and Small House by Domenic Alvaro and 360 Degrees (New South Wales).
The jury for the 2011 Houses Awards was Camilla Block, Paul Owen, Kerry Phelan, Brian Zulaikha and Cameron Bruhn. In awarding Garden of Ghosts, the jury commented that, "The rich history of this remarkable place has informed the careful remaking of the garden and the design of a transparent new addition that takes the form of a floating glass loggia. Built around 1870, the high Victorian residence is a grand pile. Life as a private zoo in the 1930s is part of the colourful history of the magical garden.
"The approach of both the landscape architect and architect respects the remnants of the past, adding another layer to history. Through a suite of new spaces the house and garden is now more engaged with the life of the people who live here. The additions are modest in size – a dining room and a bedroom with ensuite – but scaled in a way that speaks to the presence of the heritage building. Realized over a number of years, the subtle landscape works include a polished concrete swimming pool. A glass cabinet containing a ceramic fish skeleton and a moat filled with plants makes for a quirky and functional pool fence. The walls, rooms, corridors, platforms and curtains create a palpable ambiguity about what is inside and outside, old and new."
View the winners of the 2011 Houses Awards in the Awards section.
Source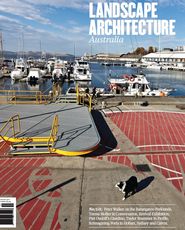 Issue
Landscape Architecture Australia, August 2011
Related topics