2011 Queensland State Awards
In the lead-up to the Institute's National Awards, we look this year's winners in the Queensland Chapter Awards.
The 2011 Queensland Architecture Awards program witnessed a near record number of entries with all seven regions well represented in entries and recognition. Over 650 people attended the Brisbane Regional awards night while Cairns motivated over 200 for a sit-down dinner and presentation. Regional awards were also held in Rockhampton, Toowoomba, Townsville and on the Gold and Sunshine Coasts. Almost all projects, apart from the most geographically isolated, were visited either by the Director, Deputy Director and State jury members or by local juries for short-listing purposes. Importantly, the Awards Program this year offered a chance to tour the areas most impacted by the summer of natural disasters and to provide support and reassurance for members practising in these places of significant impact. The final decisions reflected some outstanding work in the regions as well as innovative and thoughtful capital- city based projects.
– Malcolm Middleton (jury director)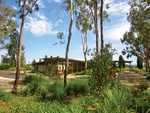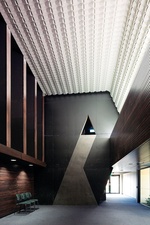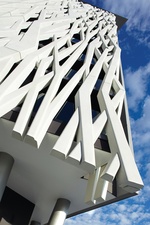 Awards
Public FDG Stanley Award—Cobb and Co Museum by Project Services [Image 1]. Awards—Kingaroy Crematorium by JMA Architects Qld [Image 2]; Queensland Emergency Operations Centre by Architectus [Image 3]. Commendations—Fr Rosenskjar Resource Centre by Macksey Rush Architects; Parkhurst State School by Arkhefield.
Commercial Beatrice Hutton Award—Ecosciences Precinct by Hassell [Image 4]. Awards—Lightspace by Stephen Cameron [Image 5]; AM60 by Donovan Hill [Image 6]. Commendation—Lavarack Barracks 3rd Combat Engineering Regiment, 4th Field Regiment Precincts by BVN Architecture.
Interior G.H.M. Addison Award—Nudgee College Tierney Auditorium by m3architecture [Image 7]. Award—AECOM Brisbane Workplace by BVN Architecture [Image 8]. Commendations— UQ Gatton Lecture Theatre 106 by Ceccato Hall + Associates Architects; Calamvale Hotel by Brand and Slater Architects.
Urban Design Karl Langer Award—Yeerongpilly Footbridge by m3architecture [Image 9]. Commendation—Kangaroo Point Park by Project Services.
Residential Architecture – Houses Robin Dods Award—Solis by Renato D'Ettorre Architects 10. Award—DHAN plus by Donovan Hill [Image 11]. Commendations—Raven Street House by James Russell Architect; Cabarita Beach House by Owen and Vokes; Bulimba Hill House by Owen and Vokes.
Residential Architecture – Multiple Job & Froud Award—Scott Street Apartments by Jackson Teece [Image 12]. Commendations—SW1 Townhouses by Bureau Proberts; Parkview, Wheller Gardens by Fulton Trotter Architects; Tank Restaurant and Bar by Donovan Hill.
Small Project Hayes & Scott Award—Wilson Architects Office by Wilson Architects [Image 13]. Award—Red Hill House by Owen and Vokes [Image 14]. Commendation—The Hub – Broadwater Parklands by White Architecture.
Sustainable Architecture Harry S. Marks Award—Dandiiri Contact Centre by Project Services [Image 15]. Commendations—Samford Valley Steiner School Library and Multipurpose Hall by pentArchi & Phorm a+d jointventure; Montessori International College Library and Double GLA by FutureSense.
Heritage Don Roderick Award—Cairns Cruise Terminal by Arkhefield and Total Project Group architects in association [Image 16]. Commendation—Rockhampton School of Arts by Riddel Architecture.
Colorbond Award for Steel Architecture—Heron Island Research Station by dm2architecture [Image 17]. Art and Architecture Prize Commendation—53 Albert Street – "landlines" by Nettleton Tribe Partnership. 25 Year Award for Enduring Architecture—Riverside Centre by Harry Seidler & Associates [Image 18].
Juries
Jury director – Malcolm Middleton.
Jury deputy – director Michael Rayner.
State juror – Professor Gordon Holden.
State juror – Mark Damant.