So, what of the winners for this year? As always, you will have to be the judge. Suffice it to say, there are several very interesting and particularly notable projects. Our named awards are a pointer to these. Of course, the quality of our architecture has always been a quandary for South Australia as the award winners move on to the national level.
Successes nationally are few and far between. Is it an apparent lack of quality that lets us down or are we simply overlooked or not taken seriously enough by our east-coast cousins? I would suggest the truth lies somewhere in between. Whatever the case, I think it's fair to say that there is an emerging undercurrent in this state with a hunger for change and even more improvement in the general state of our environment, both natural and built.
However, for this undercurrent to truly be allowed to percolate to the surface, a changing of the guard is needed. It's time for a new generation of architects to take up the challenge – there has arguably been no better time than now, with the advent of the Integrated Design Commission and a government architect. The old guard has a role to play in bringing this about – or just get out of the way!
– Francesco Bonato (awards director)
Awards
Public Jack McConnell Award—Caritas College Junior School External Covered Area by Tridente Architects. Awards—Adelaide Oval Western Grandstand Development by Hassell and Cox; Sacred Heart Senior College Marcellin Learning Centre by Tridente Architects. Commendations—Flinders University School of Medicine by Grieve Gillett; The University of Adelaide Innova 21 by DesignInc.
Residential – Houses John S Chappell Award—16R by BB Architects. Awards—Fairway House by
Max Pritchard Architect [image 1]; Hyde Park House by Con Bastiras Architect [image 2]; 3 on 300 by Scholz Vinall. Commendations—Kane Residence by John Adam Architect; Morgan Shack by Tectvs; Strangways Terrace by Matthews Architects; Terrace 62 by Studio 9.
Residential – Multiple Commendation—Invaritji Affordable Eco Housing Project by Troppo Architects.
Sustainable Awards—Christies Beach High School Environment Learning Centre by Energy Architecture [image 3]; The University Of Adelaide Innova21 by DesignInc [image 4]. Commendations—Parkside House Sustainability by Energy Architecture; Invaritji Affordable Ecohousing Project by Troppo Architects.
Commercial Keith Neighbour Award—CMI Toyota by Matthews Architects.
Collaborative Design Award—South Australian Museum Biodiversity Gallery by Grieve Gillett [image 5].
Interior Robert Dickson Award—Yalumba Signature Cellar and Tanks 11 and 12 by Grieve Gillett [image 6]. Award—JPE Design Studio by JPE Design Studio. Commendation—Public Trustee by Hames Sharley.
Small Projects Awards—16R by BB Architects; Pavilion No. 4 by Swanbury Penglase.
Heritage David Saunders Award—Anzac Hall and Piper Pavilion by Walter Brooke & Associates. Award—Oakbank Brewery Development (Stage 1) by DASH Architects. Archicentre Renovation Award—Pavilion No. 4 by Swanbury Penglase. Adelaide City Council Adelaide Prize Commendation—The Wave & the Edge by JPE Design Studio. Colorbond Award for Steel Architecture—16R by BB Architects. Sir James Irwin Presidents Medal—Integrated Design Commission SA. Emerging Architects Prize—Sean Humphries. Award for Enduring Architecture—Regency Park College of TAFE by Guy Maron Architect [image 7].
Juries
Public – Peter Dungey (chair), Ben Hewett, Stephen Ward, Augusta Soterio.
Commercial and Sustainable – Gavin Kain (chair), Julian Rutt, Alex Hall, Mark Amos.
Residential – Houses and Multiple Tony Zappia, Rodney Barrington, Enzo Caroscio, Jacqui Williams.
Heritage, Urban Design and Small Projects – Nicolette DiLernia (chair), Pip Weston, Amanda Ward.
Interior and Collaborative – Sean Humphries (chair), David Brown, Dimitty Andersen, Neroli Hutchinson.
Archicentre – Eddie Lukac (chair), Helen Vaughan, Nicolas Tsataronis, Mark Orel.
Adelaide Prize – Tim Horton (chair), Sandy Wilkinson, Sonja Hosking, Heath Edwards.
25 Year Award – David Holland, Peter Dungey, Mary Marsland.
Source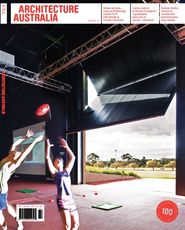 Issue
Architecture Australia, July 2011
Related topics