Walyjala-jala buru jayida jarringun buru Nyamba Yawuru ngan-ga mirli mirli, (Planning for the future: Yawuru Cultural Management Plan): The cultural management plan for Yawuru coastal country and the Yawuru Conservation Estate.
Client: Yawuru Registered Native Title Holders Body Corporate
Jury comment
UDLA was commissioned by the Yawuru people of the Broome area to assist in the creation of a long-term management plan of Yawuru country, which has resulted in the creation of a unique document. The Yawuru Cultural Management Plan (YCMP) has been produced under the guidance and leadership of the Yawuru Culture and Heritage Sub-committee (chaired by Jimmy Edgar) and endorsed by the Yawuru Registered Native Title Holders Body Corporate (RNTHBC) with the key intent to produce a document to guide the joint management of the Yawuru Conservation Estates and achieve best practice outcomes.
The Plan explains how the Yawuru RNTHBC will be involved in managing country through their Ranger Program, working in partnership with the Department of Environment and Conservation, Shire of Broome, government agencies and researchers to make sure that Country is cared for in the best possible way and ensures that the management of country brings the greatest possible benefits to Yawuru people.
This project has been awarded the AILA National Medal for Landscape Architecture as it achieves a number of outcomes. The published Yawuru Cultural Management Plan expresses past, present and future; it offers discussions about Culture, Country, Community and liyan (wellbeing) that transcend other reports of this kind, that record and map values. This Cultural Management Plan will and should respectfully drive conservation plans, land management decisions and design activities in marine and terrestrial areas Australia-wide, such is its generous and visionary approach.
It is more than a conversation, more than a listening and recording, more than walking and seeing the land; it is all of these things, but most importantly, it is none of these, but the land and its people.
Source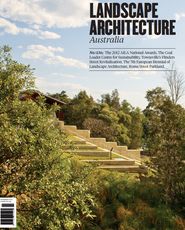 Award
Published online: 14 Aug 2012
Images: Source: Sarah Yu, Leon Mead, Source: Dean Mattews, Source: Howard Pedersen, Source: Jimmy Edgar / UDLA, Source: Sandra Harris, Source: Sandy Harris, Source: Sarah Yu, Source: UDLA, Source: UDLA /Martha Lee & Maxine Charlie
Issue
Landscape Architecture Australia, November 2012
Related topics