Roogulli (Bywong NSW) by Fresh Landscape Design
Jury comment
Fresh Landscape Design's Roogulli is a leader in sustainable residential design, offering a clear and repeatable demonstration of what can be achieved with a small budget, passionate persistence, thoughtful creativity and spades of patience.
Salvaged, low impact materials and local grassland plants have produced a rural garden strongly identifying with the local area, complete with a rampant and evolving vegetable garden that nourishes the household.
Integral in the design is the creation of a 'slow' garden that has evolved in response to materials available for salvage and the landscape architect's developing ideas about how sustainable design principles can be expressed in the manufactured landscape. This project draws on ideas from permaculture, water sensitive urban design, sustainable construction, regenerative farming and native grasslands management.
This is 'living sustainability' clearly demonstrated and beautifully rendered.
Source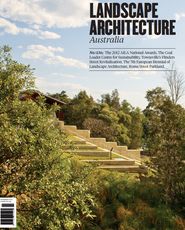 Issue
Landscape Architecture Australia, November 2012
Related topics