Robelle Domain by Vee Design
Client: Ipswich City Council
Jury comment
This master-planned residential development embraces natural drainage lines to manage flood events and cleanse stormwater in a way that enhances the development of public open space. Robelle Domain identifies the needs of the greater Ipswich community and delivers a network of linear trails with external and internal connections to passive and active recreational spaces through a variety of landscaped treatments that replicate natural landscape typologies.
Robelle Domain is a sound, working example for the future integration of natural systems with recreational needs for communities.
See our review of this project in Landscape Architecture Australia 132.
Source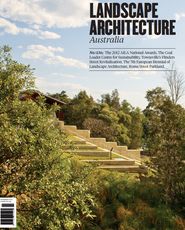 Issue
Landscape Architecture Australia, November 2012
Related topics