The Australian Garden and New Entry at the National Gallery of Australia by McGregor Coxall
Jury comment
The NGA and its surrounding sculpture gardens were completed in 1983; in 2005 McGregor Coxall were commissioned to prepare master planning and detailed designs for the public spaces associated with the new entrance and a new Australian Garden on the site of a previous car park. These new gardens include a skyspace sculpture, 'Within Without' by American artist James Turrell.
The centrepiece of the Australian Garden is a large pond in which the prominent artwork appears to float. The landscape architects worked closely with the artist to locate the sculpture on the southeast corner of the garden. Here it affords the best possible viewing aspect and is surrounded by mature native trees.
This project exemplifies best practice in designing with endemic species for year-round floral display, employing sustainable design principles and ensuring minimal (and ultimately no) water consumption. In doing so McGregor Coxall have produced a timeless, elegant and uncluttered sculpture garden which provides a seamless connection between its much older neighbour (The National Gallery Sculpture Garden) and its extraordinary new centrepiece.
See our review of this project in Landscape Architecture Australia 130.
Source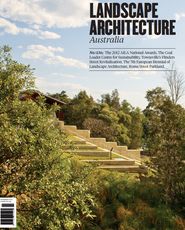 Issue
Landscape Architecture Australia, November 2012
Related topics