Wild Sea Exhibit, Melbourne Zoo by Taylor Cullity Lethlean
Client: Zoos Victoria
Partners: Troppo Architects, David Lancashire Design, Oceanis
Jury comment
This is an innovative marine zoo exhibit, which brings the visitor into an exciting and educative facility which at the same time offers both a beautiful and educational experience. Outstanding aspects of the Exhibit include:- the sustainability considerations including the closed water system, The Deep, the underwater exhibit, and the integrated and evocative design of the other marine exhibits.
It is evident that the consultative process and design planning was comprehensive and responsive to both the zoo's and the visitors needs. The jury commend that the educational and sustainable design considerations were maintained alongside the structural and exhibit's design development and contemporary built expression.
A commendable and crucial factor to the successful integrated built achievement was the close collaboration of the landscape architect with the architect and engineer.
Source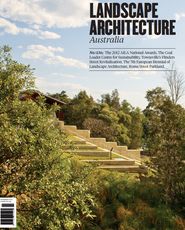 Award
Published online: 14 Aug 2012
Images: Ben Wrigley
Issue
Landscape Architecture Australia, November 2012
Related topics