Humanities and Science Campus (Parliamentary Triangle, Canberra) by Spackman Mossop Michaels
Client: National Capital Authority
Jury comment
This design demonstrates an exemplary responsiveness to its setting of landmark buildings, including the National Library, National Gallery, and Questacon, and to an urban open space with complex relationships, circulation and viewing needs.
The design planning and then the design implementation have achieved a successful integration of the formal vistas, the structured, tree shaded sculpture rooms and the native planted, organic forms, inspired by the regional bushland, which seamlessly and appropriately links to the Reconciliation Place.
The space has been transformed to a notable addition to Canberra's civic realm, already with a distinct identity and eminently usable and evocative spaces.
Source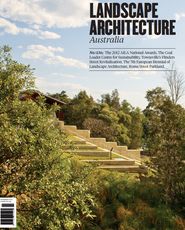 Award
Published online: 14 Aug 2012
Images: Spackman Mossop Michaels, Vikky Wilkes
Issue
Landscape Architecture Australia, November 2012
Related topics