Clifton Hill Railway Project Landscape by Jeavons Landscape Architects
Client: Department of Transport (Victoria)
Jury comment
Jeavons Landscape Architects has skilfully reclaimed a much loved but badly degraded portion of the public realm along the Merri Creek and given it new life as a sensitive and well considered space much to the delight of users and stakeholders alike.
As a design, the Clifton Hill Railway Project Landscape overcomes the challenges of unifying a long and linear site with multiple level changes to achieve an accessible path through revegetated creekland. Well-researched and ecologically sensitive planting reflects the character of the site and the materials are recycled, salvaged and robust. Travel along the path is punctuated by nodes giving the user a reason to stop and recreate in a previously derelict and abandoned space.
As the principle designer of this project, Jeavons Landscape Architects exhibited the breadth and scope of the landscape architect by having a key role in broad scale planning and visioning as well as addressing multiple functional requirements including design, planning, consultation, conservation and reclamation.
See our review of this project in Landscape Architecture Australia 134.
Source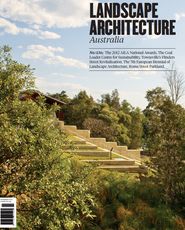 Issue
Landscape Architecture Australia, November 2012
Related topics