Pirrama Park by Aspect Studios
Client: City of Sydney
Project Partners: Aspect Studios. Hill Thalis Architecture + Urban Projects, CAB Consulting and The City of Sydney
Jury comment
Pirrama Park restores the powerful relationship between Harris Street and the water, delivering unique, waterside community facilities, innovative sustainable components (including solar energy and far reaching storm water initiatives). Pirrama Park transforms a fenced-off post-industrial concrete slab into a richly varied urban waterfront parkland.
The park design interprets the site's successive shorelines and rich maritime associations and creates a series clearly defined park rooms each with different opportunities for use and activity. The materials palette unifies the site and promotes durability and robustness appropriate to a public situation and suggests the site's former character. The harbour edge has again become a wonderful social place for landing small watercraft, wading and swimming, fishing and yarning, reinstating ways in which the harbour at Pyrmont used to be incorporated into daily rituals.
A key to the Pirrama's success has been the Play Space by Registered Landscape Architect Fionna Robbe. The Play Space reflects her philosophy that best possible opportunities should be available to children and young people to kindle resilience and to encourage and support active, engaged participation in a future of challenge and dynamic change.
This new parkland is evidence of the ability of good design to change and revitalise communities returning valuable open space to the hands of the community.
See our review of this project in Architecture Australia 99/4.
Source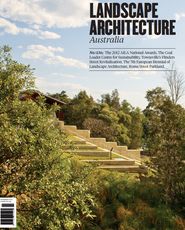 Issue
Landscape Architecture Australia, November 2012
Related topics