Design statement
This exciting renovation and extension of a turn-of-the-century terrace house focuses on a grand and gracefully spiralling stair that forms the pivotal junction of the old and new parts of the house. The staircase, spanning the width of the building, features delicate fan-like steel treads that are cantilevered from the central steel post and wind their way past six split levels, offset between the old and new sides of the house. Spacious living areas and private zones open out from each side of the stair with one area per level alternating between the old and new building. Finishes in the old portion of the house are contemporary and elegant in a Stripped Classical style with deep flush skirting boards, mannered panelled doors and wide timber floorboards, all in gloss white paint and offset by richly coloured set plaster walls. The mainly white extension with the same gloss white floorboards features a black stained timber-boarded joinery element across three levels. A thirteen-metre clear span wall of sliding doors overlooks a pocket garden. There is a sense of rooms unfolding within rooms, connecting spaces and interdependency in the house, and providing a richly layered experience and reflecting the complexity of a contemporary urban lifestyle.
Jury comment
Colour is subtly threaded through the building fabric and decorative elements of this house to provide a continuum between old and new, and from space to space. Period colours are used in a bold and contemporary manner, referencing the past in selection but speaking to the future in execution and delivery. White skirting is used as a connecting device between old and new. White flooring across a variety of materials provides a strong, consistent base through all spaces, again connecting old to new. Both warmth and freshness are injected into the interior through sophisticated selection and application of colour. A thoughtful and considered use of colour in this residence contributes to the definition and legibility of this highly detailed residence.
This project also won the Residential Design award.
Credits
Design practice

Smart Design Studio
Sydney, NSW, Australia
Project Team

Victoria Judge, William Smart
Site Details

Location Tusculum Street, Potts Point, Sydney, NSW, Australia
Site type Urban

Project Details

Status Built
Category Residential
Type New houses

Source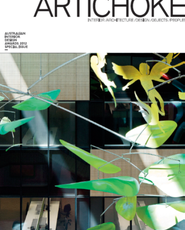 Issue
Artichoke, April 2012
Related topics