Design statement
Vue de Monde explores the concept of the dining destination, moving beyond the clichés that dominate Australian tourism such as reef, rock and road to connect with the local landscape. The experience is connected with the local river estuary through references in the interior design to hunting, fishing and gazing across black pools of a billabong. The bar features a monolith of locally sourced rough black basalt, polished to a mirror finish. This billabong surface reflects the cloud structure above – an art installation by Michaela Dwyer. Pieces of eccentric furniture create a carnival atmosphere, a terrace is filled with the blackened timber forms of a burnt-off landscape and wet areas offer the ultimate estuarine experience: waterfalls of e-Water. The design, which takes into account environmental sustainability principles, includes Australian timber, fur, veneers and furniture, all custom made by Australian designers. LED lights, low-energy-consumption appliances, a ventilated ceiling, up-cycled cutlery, recycled tiles and effective waste recycling also contribute to environmental sustainability.
Jury comment
A sophisticated abstraction of the Australian landscape is translated into an interior design narrative, delivering a highly original aesthetic. Vue de Monde is a restaurant that delivers a sense of opulence, along with a strong sense of place. An artistic and considered approach to the presentation of individual elements throughout the restaurant provides a rich visual backdrop for the diner. A playful and slightly irreverent approach to the use of materials and finishes provides a humorous twist and connection to the underlying Australian narrative. Considered use of task and mood lighting and subdued use of colour and materials assist in the translation of the outback story into an urban setting. This project is a bold, fresh interpretation of an Australian story that does not look to previous benchmarks or indulge in sentimental references to create a unique dining space.
This project also won the Sustainability Advancement category.
Products and materials
Walls

Metal finishes from Rimex Metals. Glazing by Viridian Glass. Timbers are local or sustainable. Marble and bluestone from Apex Stone. Tiles from Russel Cook metz, Classic Ceramics and Artedomus.
Ceiling

Acoustic wall panel from Woven Image.
Flooring

Carpets from Whitecliffe Imports.
Lighting

Dining room pendant lights by Emma Lashmar and Dean Phillips. Function room Frilled Neck Lizard Lights by Design Sense. Valenti Terra Sphere floor lamp. Architectural lighting from Concord Sylvania, Dean Phillips, ECC Lighting, JSB Lighting, Licht Design, Lighting Group, Lightmoves, Major Graphic Signs, Xenian, Zumtobel.
Furniture

Tables and chairs by Ross Didier. Kangaroo skins over dining room tables by Captain of Industry – James Roberts and Theo Hassett. Lounge Furniture by Anthony Camm, from Camm Upholstery. Other fabrics from Laine Furnishings, Unique Fabrics and Textile Mania. Champagne and cheese trolleys by Arteveneta.
Joinery

Ross White from Simsite.
Bathroom

Amenity hand wash basins, make up station, mirrors and the pissor by Joseph Licciardi. Basins by Caroma. Tapware from Streamline Products and Rogerseller.
Tableware

Chef's tables gold rush pebbles by Mark Douglass. Cutlery by Christofle.
Artwork

The Cloud installation above bar is by artist Mikala Dwyer. Neon text artwork to dining room and wine cellar by artist Joseph Kosuth. Commissions by Anna Schwartz Gallery.
Credits
Design practice

Elenberg Fraser
Melbourne, Vic, Australia
Project Team

Callum Fraser, Adrian Coleiro, Kayoko Kubo, Aivars Kristens, Katherine Wheib, Linda Valentic, Suki Lam
Consultants

Audiovisual Custom Sound
Builder Liquid Lines
Building surveyor MBAV (Master Builder Association of Victoria)
Electrical engineer O'Donnell Griffin (ODG)
Graphic design Designworks Melbourne
Kitchen consultant FCA (Foodservice Consultants Australia)
Kitchen contractor Atherton
Kitchen ventilated ceiling Phoeniks: Catering equipment
Landscaping Joost
Lighting Electrolight
Mechanical engineer A.G. Coombs
Project management Equiset
Vision and IT Spectrum IT

Site Details

Location Level 55, Rialto, 525 Collins Street , Melbourne, Vic, Australia
Site type Urban

Project Details

Status Built
Design, documentation 12 months
Construction 6 months
Category Hospitality, Interiors

Client

Client name Vue de Monde
Website vuedemonde.com.au

Source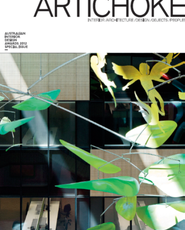 Issue
Artichoke, April 2012
Related topics