Best Retail Design
Adriano Zumbo by Luchetti Krelle
Jury comment
Proving that sophisticated design does not need to take itself too seriously, the whimsical fit-out of Zumbo creates a magical setting to take the current gastronomic fashion for macaroons to the level of an immersive experience. Inspired by the diabolical humour of Roald Dahls's Charlie and the Chocolate Factory, Zumbo uses the idea of movement and mechanical ingenuity in the two sections of its store – retail and dining, which are strategically separated by a carefully resolved and specialised kitchen, able to respond to high demand. Apart from its clever play on other cultural and childhood references (e.g.sushi trains and the Mouse Trap board game), the project is noteworthy for its inventive construction and fabrication, from display cases and dynamic conveyor belts, to appropriately sugary wallpaper. In the retail field, eye-catching design can often become gimmicky and brash with colour and effect, yet Zumbo manages to be exuberant, amusing and fresh.
Design statement
For his latest venture at The Star Casino Adriano Zumbo was keen explore new ideas. The two parts – retail shop and restaurant – are connected by a "dessert train" that snakes through the large open kitchen and out to waiting patrons. Coloured Marblo is stacked like a liquorice allsorts and cut and layered like dripping icing. Macaron wallpaper conjures childhood memories of lickable wallpaper. The storefront contains cakes displayed in "mouse traps," specially commis- sioned by industrial designers Luxxbox, while the chocolate display in a bathtub is at risk of walking off with its shiny purple boots. The budget for Zumbo Patisserie was $1,000,000 and work was completed over ten months.
Read a review of this project from Artichoke 38.
Adriano Zumbo
80 Pyrmont Street
Pyrmont NSW 2000
+61 2 9777 9000
adrianozumbo.com
Products and materials
Walls and ceilings

Custom-designed Luchetti Krelle wallpaper by Sunscreen Window Tinting and Graphics. Tiles by Academy Tiles and Classic Ceramics. Perforated ceiling by Lafarge.
Doors

Sliding doors from Centor and Dorma. Renlita doors from Monarch Doors. Hinges from Häfele.
Flooring

Activa Rubber Flooring.
Lighting

Watch Out pendant and custom lights/plinths by Luxxbox. HD2 wall light from ISM Objects. Link 1 Reo and Konnect 30 lights from Inline.
Furniture

Coved Corian bar-height dining bench. Lottus bar stool from KE-ZU.
kitchen

Stainless steel manufacture, supply and supply of equipment by Triple X Stainless Steel. Ovens from Unox. Other equipment from Royal Bakery Equipment.
Heating/cooling

Air-conditioning by Refrigeration Consulting Services.
Joinery

Expandable mesh from Locker Group. Laminate from Laminex. Benches from Marblo. Astroturf to joinery from Ozturf. Paint from Dulux.
Other

Large signage, rotating boots, rotating cogs by Di Emme. Dessert (sushi) train by Restaurant and Automation Specialists. Decorative emergency hammer to glass cabinets from Bretts.
Credits
Design practice

Luchetti Krelle
Surry Hills, Sydney, NSW, Australia
Project Team

Luchetti Krelle, Stuart Krelle, Isabel Koenig Woodroffe
Consultants

Builder Construction by Design
Electrical NGC Electrical

Site details

Location Shop 1, Cafe Court, The Star 80 Pyrmont Street, Pyrmont, Sydney, NSW, Australia
Site type Urban
Category Interiors
Type Hospitality, Retail

Project Details

Status Built
Design, documentation 4 months
Construction 3 months
Website http://adrianozumbo.com/

Client

Client Adriano Zumbo Patissier
Website adrianozumbo.com

Source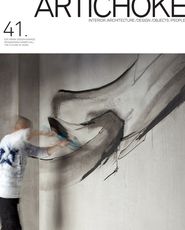 Issue
Artichoke, December 2012
Related topics