2012 Eat-Drink-Design Awards
The inaugural Eat-Drink-Design Awards were announced on 23 October 2012 at 28 Lounge and Sky Bar, at Melbourne's Crown Metropol, where around 300 designers, architects, and their hospitality clients from Australia and New Zealand gathered to celebrate.
The success of this new annual awards program speaks to the passion, creativity and rigour of designers and operators who create brilliant hospitality destinations. This is a challenging arena, and beyond mere aesthetics, design must work on many levels to succeed.
Eight winners and twenty-four high commendations were awarded from a shortlist of 157 projects, and one restaurant inducted into the Hall of Fame. Architecture Media and AGM Publishing thank their principal partner Tanqueray, supporting partner Mt Difficulty Wines, event supporters Asahi and Sanpellegrino, and accommodation partner The Hatton, for their valued association in presenting the Eat-Drink-Design Awards.
Winners
Best Bar Design – Pretty Please by Travis Walton
Best Restaurant Design (joint winners) –  
The Spice Temple Melbourne by 1:1 Architects in association with Grant Cheyne
The Apollo by George Livissianis Interior/Architecture
Best Cafe Design – Third Wave Cafe by Tony Hobba Architects
Best Temporary Design – Chasing Kitsune by Hassell and Schiavello
Best Retail Design – Adriano Zumbo by Luchetti Krelle 
Best Visual Identity Design (joint winners) – 
D.O.C. by ERD and Baker D. Chirico by Fabio Ongarato Design 
Hall of Fame
Jimmy Watson's Wine Bar was inducted into the Eat-Drink-Design Awards Hall of Fame for its contribution to Australian modernism and its longevity in the dining scene. Designed in 1962 by Robin Boyd and Frederick Romberg, this institution on Lygon Street, Carlton, is still owned and operated by the founding Watson family today. Accepting the award was Allan Watson and Amy Boyd  – whose heartfelt tribute to her grandfather struck a chord with the gathering, as did Allan Watson's brief but humbling thankyou: "Robin Boyd was wonderful to work with, and gave us this beautiful wine bar… We're just puddling along in Carlton every day. We hope we're doing a good job, and hope to keep doing it for a few years yet."   
High Commendations
Best Restaurant Design
Best Bar Design  
Best Cafe Design  
Best Retail Design  
Best Visual Identity Design  
Best Temporary Design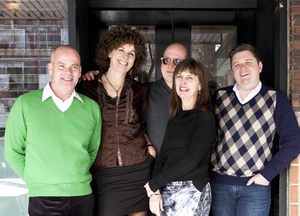 Given the breadth and calibre of entries, the jury was generous with awarding its high commendations. Seven projects received high commendations in the best bar category, five each for Best Bar Design, three for Best Retail Design, and two each for Best Visual Identity Design and Best Temporary Design. With so many projects to assess, what were the judges (food writer Jill Dupleix, restaurateur Ronnie Di Stasio, architect Roger Wood, design writer Rachel Hurst and Architecture Media editorial director Cameron Bruhn) looking for? 
"Two qualities that were prioritized were the integrity of and confluence between place, space and the offering of food and drink, and how people-centric the designs were at the interface of the table (or bar, or counter). These were vital tools for evaluating projects within the same category, yet of vastly different budgets, scale or architectonic language. They enabled us to compare eclectic, grungy establishments with seamless and singularly themed venues, and serendipitously guaranteed that both these tendencies in Australasian hospitality are represented among the winners," the jury commented.
"There is clearly a hunger for this type of event. Food, dining and cafe culture have long been recognized as critical catalysts for urban regeneration, and we can take comfort from the fact that in Australasia the hospitality industry is buoyant and progressive. 
"Apart from an appetite for more gastronomic outings, however, we were left with the conviction that the parallels between good design and hospitality are self-evident, and that the vigour, generosity and finesse on show in this first sampling of Australasian projects heralds the Eat-Drink-Design Awards as a significant vehicle for design discourse." 
Winners, highly commended projects and a full jury overview are all featured in Artichoke 41 and the November 2012 issue of Interior. View all the entries and winners in the 2012 Eat-Drink-Design Awards online here.
See our snapshots from the night at the Eat-Drink-Design facebook page.