Jury citation
Located within the heritage core of the former Glenside Hospital, Adelaide Studios provides the highly regarded South Australian film industry with a world-class home. The listed administration building accommodates the South Australian Film Corporation and film industry tenants. Years of ad hoc alterations were removed, enabling the building's quiet grandeur to be appreciated once more and providing a spacious context for the crisp new fitout.
New construction to the east houses state-of-the-art film production facilities. The design caters for varying production sizes and stages of production, enabling the filming of two productions, sound editing and pre-production to occur simultaneously. Film is the primary market; however, sound stage two is also designed for television, further diversifying the studios' operational capabilities. Technically, the new facilities achieve industry best practice, providing high levels of acoustic performance.
Despite the scale required for the new facilities, significant views of the historic precinct from Fullarton Road and along the significant east/west axis of the hospital have been preserved. Three courtyards link old and new, providing breakout spaces away from the intensity of filmmaking and further defining the axis. Both the old and new architecture have a robust, no-nonsense character, resulting in an experientially rich and stimulating environment.
Source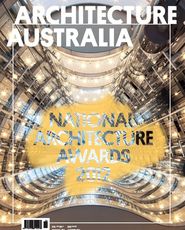 Issue
Architecture Australia, November 2012
Related topics