Jury citation
Folk Architects has designed a new winemaking facility for Medhurst Wines in Victoria's Yarra Valley that is completely embedded into the landscape and defined by a series of horizontal elements that follow the contours of the site. Nestled quietly into an existing hill to reduce its visual impact on the landscape, the building accentuates its natural setting by framing views to the surrounding Warramate Hills Nature Conservation Reserve.
The programmatic requirements, orientation and restrained material palette have been thoroughly evaluated and considered in order to reduce the building's energy use and provide a sustainable outcome. The landscaped green roof covering the barrel store provides thermal mass to reduce the requirement for mechanical cooling of stored wine. By placing the barrels under earth less evaporation ("the angels' share") of the wine occurs.
Similarly, the heat-reflective, translucent plastic cladding to the northern facade of the winemaking area allows artificial lighting to be replaced with filtered natural sunlight.
The new winery sits adjacent to an existing cellar door and is very much intended to enable public engagement with the winemaking process. A meandering path leads patrons from wine tasting through a series of landscaped spaces to views of the production area and vines beyond.
Credits
Architect

Folk Architects
Melbourne, Vic, Australia
Consultants

Building surveyor Protek Building Surveying
Contractor Skate Constructions
Earthworks Frank Wood
Green roof consultant FytoGreen Australia
Landscape Frank Wood
Structural engineer Coulthard Shim
Winery consultant Linney Engineering Services

Site Details

Location Yarra Valley, Vic, Australia

Project Details

Status Built
Category Commercial, Public / commercial

Source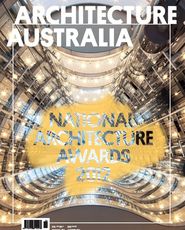 Issue
Architecture Australia, November 2012
Related topics