Jury citation
This distinguished high-rise commercial building comfortably fits into its urban context. It contributes to the quality of Sydney's diverse skyline and acts as a new benchmark for quality and sustainability for this building type.
The elliptical form aligns with the city grid and is orientated towards the harbour, maximizing views and creating premium office space and a quality work environment. The reduced building footprint creates a significant new north-facing public space. A broad staircase rises to the sheltered wintergarden, which affords an ideal place to sit in the sun and overlook an extended Farrer Place.
The innovative floor plate, with atrium and glazed lifts, minimizes the enclosed core area, and maximizes views and natural lighting across a large and flexible floor area. A central atrium runs the full height of the building, enhancing workplace connectivity while introducing natural illumination and ventilation. The design of the roof space and location of a central plant are carefully considered and add to the quality spaces within.
The fully glazed double-skin facade is a major contributor to the building's 6 Star Green Star rating. The facade system includes an inner skin of performance glass, automated venetian blinds and an outer skin of clear glass separated by a naturally ventilated, externally accessible cavity.
All aspects of this impressive commercial building have been carefully considered and meticulously and consistently crafted.
Credits
Architect

Architectus
Australia
Architect

Ingenhoven Architects Düsseldorf
Düsseldorf, 40221, Germany
Consultants

Acoustics Arup Sydney
Artists James Angus, Barbara Flynn
ESD Cundall Australia
Engineer Enstruct Group
Facade DS Plan, Arup Sydney, Enstruct Group
Hydraulic and fire services engineer Steve Paul & Partners
Landscape architect Sue Barnsley Design
Lighting design Tropp Lighting Design, Arup Sydney
Project manager APP Corporation
Public art coordinator Barbara Flynn, James Angus
Structural steel Enstruct Group, Arup Sydney
Vertical transportation Norman Disney Young

Site Details

Location 1 Bligh Street, Sydney, NSW, Australia

Project Details

Category Commercial, Public / commercial

Source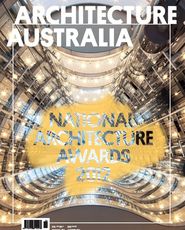 Issue
Architecture Australia, November 2012
Related topics