Jury citation
Monash University Student Housing, Clayton, comprises two five-storey buildings, each containing three hundred studios and flanking a central, common courtyard. A home away from home, the project successfully nurtures the student community while supporting the individual — the courtyard is the meeting point and entry to each building and the place where students interact.
Shared spaces and vertical circulation are located at the centre of each building, encouraging interaction. The main communal spaces are double-storey volumes that play an important role in connecting all levels and defining the architectural composition. Each wing of the building has thirty studios per level. At twenty square metres, the studio module — each studio has an ensuite, kitchenette, and sleeping and study spaces — was refined to create a sense of spaciousness, and incorporates extensive operable floor-to-ceiling windows and exposed 2.7-metre-high ceilings, with services contained at central risers. The external mass is effectively minimized and serially patterned by the offset coupling of units clad in vertical timber.
The landscape environment is planted with an edible garden to encourage community use, recreation and the embracing of freshly grown food, which enhances the sense of community. This project has achieved a Green Star Multi-Unit Residential Design v1 rating and a Green Star Multi-Unit Residential Design As Built v1 rating. It has been identified as a new benchmark for the federal government's National Rental Affordability Scheme.
Source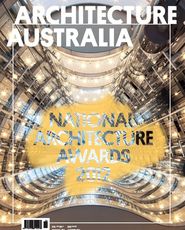 Issue
Architecture Australia, November 2012
Related topics