Jury citation
The Ormond College Academic Centre is an adaptive reuse of the circa 1968, heritage-listed, two-storey, octagonal Romberg and Boyd building. The transformation represents a cohesive, contemporary integration of library, technology, pedagogy and materiality.
McGlashan Everist has created a memorable space that supports the diversity of learning styles of the modern student and which provides the ability to use and access knowledge in its many forms. The design supports a multitude of learning modalities for individuals and groups in a range of spaces that offer space and time flexibility and transformability.
A central void connects the two floors. A faceted top-lit lantern draws on Islamic architecture and the tradition of great library reading room domes to fill the centre with natural light.
Sculpting of joinery and bookshelves enables framed views of the trees and the College beyond. Timber, wool, leather, recycled copper, cork and brick offer warmth, tactility, calm and acoustic control. Sustainable design shaped the project from its inception. Attention to creating thermal mass, shading, drawing in natural light and ventilation demonstrate environmental responsibility.
The built result, thoroughly embraced by the students, is testament to the protracted research, brief development and design process and represents the community values of the College.
Source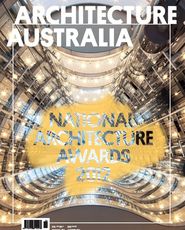 Issue
Architecture Australia, November 2012
Related topics