Jury citation
Swifts, Sydney's largest and most intact late-Victorian private mansion, was saved from dereliction and over-development when Doug and Greta Moran purchased the property in 1997. Their brief was to repair and restore the place as a family home. The process took place over a decade and the result is masterly — a restoration project carried out by an experienced conservation architect at the height of his powers.
A major achievement of the work is that the extraordinary internal painted decoration has been faithfully restored or reconstructed to its original condition. Teams of conservationists, artisans and painters have scraped, revealed, conserved and faithfully reproduced the walls and ceilings. With the commitment of a dedicated client, the inclusion of authentic furniture, fabrics and paintings has produced a real treasure trove; a wealth of experience for the eye.
Externally, slate and lead roofs were extensively repaired and a great deal of work has been done on deteriorated castellated sandstone walling. It is rare that a house of this period survives intact with its original planning, outhouses and grounds. These have been respected while incorporating modern services, kitchens and bathrooms.
The result is that a superb example of a high-Victorian mansion has been saved and restored to its original grandeur for future generations at no cost to the public.
Source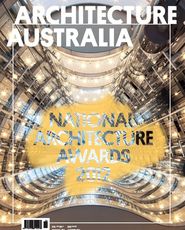 Issue
Architecture Australia, November 2012
Related topics