Jury citation
Inner House is a single dwelling constructed within the 1926 First Church of Christ, Scientist church in East Sydney. The structure is erected on a platform built over the raking floor with a pair of two-storey cubes flanking the volume. These spaces contain sleeping accommodation and ancillary facilities while the central space provides living and dining areas.
The concept is derived from the formal geometry of the volume and its austerity, and the temporary nature of the new structure. The desire to leave the existing fabric untouched also drove the design.
The new structure is freestanding, lightweight, raw and designed for off-site fabrication and disassembly. It allows the authoritative austerity of the church volume to be experienced while still expressing the light and playful qualities of the interventions. Three rows of pews have been retained to permit occasional public performances on the renowned church organ.
The walls of the new building emit a soft glow at night. The floor of the space is heated and an ethanol fire provides glowing warmth and avoids the need for penetrations through the roof. The project was designed to be fabricated off-site and built in fourteen weeks, while restoration work to the original fabric continues.
This is a contemporary installation designed around the formality and symmetry of the original space.
Source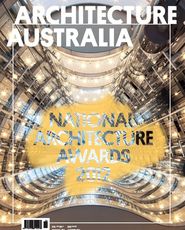 Issue
Architecture Australia, November 2012
Related topics