Jury citation
Occupying a warehouse space, Garagistes celebrates the notion of communal eating. With a name taken from a movement started by Bordeaux winemakers, Garagistes supports the communal philosophy right down to the crockery the food is served on.
Snugly indented into the facade, the rusted steel entrance opens generously into the expansive space. A sense of bustling activity is generated by an open kitchen that folds back into the irregular rectangular form of the warehouse. The acknowledgment that kitchen and dining become one further intensifies the experience.
A simple, industrial palette of materials has been sensitively handled. The glowing jamon cool room draws the eye to the rear of the space, adding restrained drama. Clad in steel plate, the small tower provides an end point to the restaurant and contains a concealed open administration office above. The existing sawtooth glazing has been softened by clear polycarbonate sheets, which sit in contrast to the charcoal felt acoustic panels express-fixed to the ceiling structure. Existing timber beams are stripped back while the existing steel structure is highlighted in red paint.
Elongated tables of varying length and height line the room at an angle. This encourages interaction and discussion between strangers as various plates of food are revealed. Crockery has been locally handcrafted from regionally sourced clay, providing a relationship between food, individuality and an acknowledgment of the importance of things "made by hand."
Credits
Design practice

Paul Johnston Architects
Market Place, Hobart, Tas, Australia
Project Team

Paul Johnston, Erin Rockliffe, Kirk Richardson
Consultants

Builder Gavin Burgess Builders, Kirk Richardson
Graphic design Sheila Alati Design
Seating design & construction Dieu Tan
Table design & construction Evan Hancock

Site details

Location 103 Murray Street, Hobart, Tas, Australia
Number of stories 1
Site type Urban
Category Interiors
Type Hospitality, Restaurants

Project Details

Status Built

Client

Client Garagistes
Website Garagistes

Source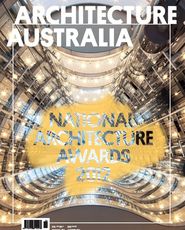 Issue
Architecture Australia, November 2012
Related topics