Jury citation
The new Auckland Art Gallery Toi o Tāmaki is an extensive public project that includes the restoration and adaption of heritage buildings, a new building extension that more than doubles the public exhibition areas, extensive basement storage and support areas, and the redesign of adjacent areas of Albert Park. On a lengthy and much-scrutinized project, the architects have held their nerve to realize a civic building that Auckland needed, and which the city needed to be very good. The key issue confronted, which also became a big opportunity that was embraced, was the Art Gallery's relationship with Albert Park. The building's other relationships, with Kitchener Street and with the wider city, have also been realized successfully, along with the strategy of using the spaces around the building and views into the interior to invite the public into the art gallery.
The new building is characterized by a series of fine tree-like canopies that define and cover the entry forecourt, atrium and gallery areas. These elegant, profiled forms, inspired by the adjacent canopy of pohutukawa trees, hover over the stone walls and terraces that reinterpret the natural topography of the site. The ceilings of the canopies are assembled from carefully selected kauri trees, profiled into precise geometric patterns and supported on slender and tapering shafts. These emblematic forms give the gallery a unique identity that is inspired by the site's natural landscape.
Between the stepped stone podium and hovering canopies, an openness and transparency is created to allow views through, into and out of the gallery circulation and display spaces, as well as into the green landscape of Albert Park. In this way the gallery opens to the park and adjoining public spaces in an inviting and engaging gesture of welcome.
Read a review of Auckland Art Gallery Toi o Tāmaki, from Architecture New Zealand.
Source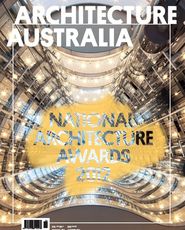 Issue
Architecture Australia, November 2012
Related topics