Jury citation
The Dapto Anglican Church Auditorium is an inspired reinterpretation of the traditional church within a contemporary social, environmental and economic context.
The architects have worked closely with the client and users to understand the needs of the community and to provide a new venue. It has quickly become an important focus of daily life.
The building is designed to accommodate a broad range of events and offers a complementary and alternative venue to the nearby St Luke's Chapel. It acts as a community foyer, meeting space and cafe.
The bold rectangular form and forecourt is civic in scale yet offers a range of more intimate community spaces. The simple form is dramatically eroded to successfully link the building to an existing preschool, the community hall and a car park.
The clarity and boldness of the design concept; the directness of form, structure and materials; and the inventive use of textures and finishes have delivered an exceptional community building on a very restricted budget.
Source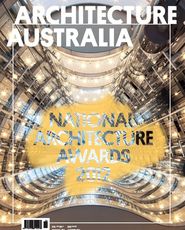 Issue
Architecture Australia, November 2012
Related topics