Jury citation
In a community devastated by the 2009 Black Saturday fires, a building has emerged that gracefully addresses its needs. On approach the bronze perforated metal box reads as a delicate, solid form at ease within the Victorian bush landscape. Internally the subtle yet very effective planning considerations have converted the atypical community "hall" into a place of refuge that has a scale not dissimilar to that of a home.
Referencing the historic "timber town" and the elegance of the Black Spur landscape, the interior is defined by large floor-to-ceiling vertical timber blades that carve intimate spaces within the hall. Simple curtain interventions provide the division and privacy required by the multipurpose space.
New building regulations were hastily established in response to the 2009 catastrophe, and the architects cleverly worked within these constraints to create a building that does not feel restricted. The effective use of fire-rated mesh provides screening to the full-height, glazed facade, and provides security for the building when it is not in use. The entry to the building has been reorientated away from the main road to the south. A large full-height tilt door clad in the fire-rated mesh provides an awning to the entrance when opened. Mimicking the southern facade's opening, the northern facade opens out, providing a direct relationship with the forested landscape beyond.
The building heralds a new beginning and nurtures those who have lost so much. At night it appears as a glimmering beacon, transparently defining the activities of the local community and drawing upon the strength of local spirit.
Read a review of Narbethong Community Hall from Architecture Australia.
Source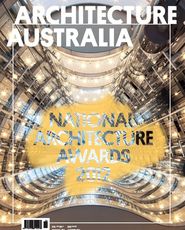 Issue
Architecture Australia, November 2012
Related topics