Jury citation
A single house site has been developed with two semi-detached houses, typical in scale and complementary in character to others in the street. The skilful adaptation and reinvention of this traditional typology updates it to contemporary and more sustainable living, with better natural light and ventilation, greater privacy and more successful integration of the internal and external spaces.
There has been an inventive reinterpretation of pitched roof forms and dark recessive colours, which blend with the adjacent landscape. The ceiling of the top floor living spaces follows the pitch of the roof above. Each pitch in the roof defines a separate internal or external space. The consistency of treatment to both the internal and external spaces, along with the luminance provided to the interior by the skylights, blurs the boundary between inside and outside.
Operable louvres are skilfully, and at times poetically, used to control solar access, ventilation, views and privacy. On sunny days, they decorate simple spaces with beautiful linear patterns of light and shadow.
Within this strict program, each house maintains its own identifiable character and a quality of living that was not contemplated by the original semi-detached typology.
Source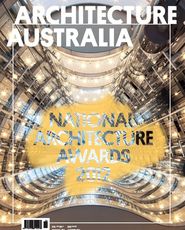 Issue
Architecture Australia, November 2012
Related topics