Jury citation
This grouped dwelling development uses courtyards to balance communality and privacy, focusing on the provision of a flexible planning model that favours social housing principles — multi-generational occupation, universal accessibility, home office adaptability and internal subdivision — to accommodate growing and aging families.
On an infill site in a post-industrial setting, Officer Woods has designed a group of four houses. Rather than expressing each dwelling separately, Officer Woods has presented the dwellings as a single identity to the street, similar to a large house in the maisonette tradition. The built form engages with the material and construction language of nearby warehouses. Social sustainability is achieved by maximizing the current density in an established location with high amenity, while providing dual-key adaptability to allow dwellings to be divided if the site density code doubles in the future.
Building massing has been designed to zero setbacks on southern boundaries to maximize solar access, with buildings arranged to avoid overshadowing and to provide acoustic separation between living and sleeping areas. Vehicle and pedestrian entries are separated to enhance safety, security and legibility. The budget was set up to increase longevity through the use of demonstratively low-maintenance and sustainable materials and finishes. The project relies on efficient planning and the juxtaposition of raw and refined materials to maximize cost effectiveness.
Environmental analysis was used to calculate the embodied energy, to ensure a carbon-positive life cycle was achieved. Subsequent environmental auditing resulted in an average 7-star Building Energy Rating Scheme (BERS PRO) rating across the houses.
Read a review of 58 Stevens Street from Architecture Australia.
Source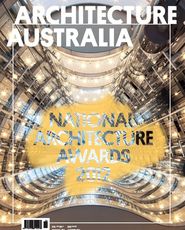 Issue
Architecture Australia, November 2012
Related topics