Jury citation
Shearer's Quarters is located on Waterview, a historic farming property on North Bruny Island — land first granted to Captain James Kelly in 1840. The lodgings have a wonderful sense of spirit, tactility and purpose; the use of applewood cladding throughout the interior gives a rare sense of warmth, simplicity and humility to the internal spaces. The jury found Shearer's Quarters to be pure poetry.
The building provides accommodation for travelling shearers as well as rural contractors and JWA staff. The plan transforms along its length to shift its profile from a slender skillion roof at the west to a broad gable at the east. It is clad externally in galvanized iron and internally it is lined entirely with timber. It appears as a very simple form; an agricultural shed in the landscape. A detached brick chimney forms a dialogue with those of the adjoining 1840s dwelling. The resolution of detail is extremely sophisticated. The placement of apertures, which provide dramatic views and a sense of place, and the plan layout as a whole, are composed so that Shearer's Quarters harmonizes completely with its rural setting.
There have been extensive environmental initiatives undertaken on the property, including significant indigenous tree planting. The building occupies a small footprint, and is designed so that passive heating and cooling make it comfortable year round. It employs operable ventilation louvres, double glazing, rainwater collection, on-site wastewater treatment and solar hot water. There has been extensive use of recycled and sustainably harvested timber and handmade bricks in its construction.
Read a review of Shearer's Quarters, from Architecture Australia.
Source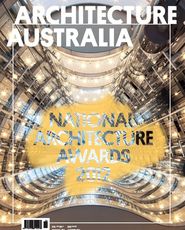 Issue
Architecture Australia, November 2012
Related topics