Jury citation
The Smee Schoff House involves alterations and additions to a Federation bungalow in Sydney's inner west. As is common in such projects, the clients' brief called for the removal of the dysfunctional rear portions of the house, refurbishment of the higher-quality rooms to the front and the addition of new cooking, bathing and living spaces to the rear.
This project is very much a reflection of the clients' creativity and personalities, and of a true client/architect collaboration: both the architect and the clients took an atypical approach to the use of space, wanting neither an open-plan living space nor separate and defined rooms. As such, the kitchen is for eating, the dining room is for playing music, and the sitting room is for study. This refreshing attitude results in fluid, interlocking, multipurpose spaces, each with a distinct character.
This is a uniquely tailored house that has been designed with an eye for comfort. It is remarkably luxurious given that the budget was modest. The skill displayed by the architect in modulating space, in creating areas specific to the clients' needs and in controlling the relationship between the various spaces must be applauded.
Source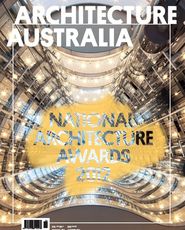 Issue
Architecture Australia, November 2012
Related topics