Jury citation
This project was an initiative of Queensland University of Technology's Real Studio project coordinator Alison MacDonald, along with about eighty students who gave up their holidays to work on site.
Real Studio saw students design and build a rural agricultural shed at Murphy's Creek for use by the Bicentennial National Trail (BNT). The shed, which is situated at a halfway point on what is one of Australia's most important historic trails, encompasses camp site facilities including an animal shelter, a hitching rail, a feed room, a tack/store room, a first aid room and amenities. The facilities are used by trail riders who follow the historic coach, pioneer and stock routes, packhorse trails and country roads that run the length of Australia's east coast. The previous facilities were destroyed in flash flooding in January 2011.
Where possible, the trail was designed as a "living history" of Australia, and this philosophy has been mirrored in the building's design, which retains elements of the previous structure. The height of the retrieved river stone walls that wrap the building serve as a record of the height and power of the floodwater, and many of the materials used in the structure were sourced from the site and the local region. Limited resources motivated an emphasis on recycled/reused materials, dematerialization, generous sponsorship/donations and ingenuity, ensuring the realization of the project.
Queensland University of Technology's Real Studio is an example of community engagement that showcases how built environments can add value to the economic, environmental and social landscapes of Australia.
Source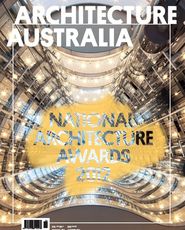 Issue
Architecture Australia, November 2012
Related topics