Jury citation
Located on the Hawkesbury River's Milson Island, this sports stadium has been designed to cater for a children's residential camp. The building is nestled into the bushland that lines the edge of an existing oval, and is sympathetic to its context. With a design founded on thermodynamic analysis, the large asymmetrical curved roof form sits gently above the ground line. Low-lying windows run the length of the stadium, allowing for intimately scaled transparency through to the landscape beyond. The building frames the existing campfire place and provides a lantern and focus back to the dense bushland.
Designed with a consideration of the limitations associated with transporting structural components to the island, the expressed steel structure elegantly provides the framework by which the curved roof forms a canopy for occupation. The corrugated curved roof has negated the need for gutters, providing low-level run-off to the edges of the building into a rock garden. This in turn provides a cooling chamber, allowing for natural ventilation to be drawn up into the interior of the building.
As the speckled shadows of the landscape camouflage the building's facade, this building celebrates the scale of its inhabitants and the focus of the island: to be one with the landscape.
Source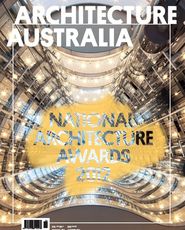 Issue
Architecture Australia, November 2012
Related topics