Jury citation
The office development at 1 Bligh Street, Sydney was designed to achieve a 6 Star Green Star rating and a 5-star National Australian Built Environment Rating System (NABERS) rating, incorporating a number of innovative environmental strategies. It sets a new benchmark for sustainable high-rise commercial developments in Australia.
The proposal was developed with consideration of four critical aspects: view, public space, work environment and green building status.
Designed around the principles of flexibility, efficiency and communication, the building features a naturally ventilated glass atrium that runs the full height of the building, enhancing workplace connectivity while introducing natural light and ventilation.
The fully glazed double-skin facade is a major contributor to the Green Star rating and has been specifically developed to optimize amenity for the occupants by maintaining views while providing optimum daylight levels and solar control. The facade system includes an inner skin of performance glass, automated ventilated blinds and an outer skin of clear glass that is separated by a naturally ventilated accessible cavity.
In addition to the facade and atrium, the development includes recycled concrete, steel with 50 percent recycled content, recycled timber, solar cooling, trigeneration systems, black water treatment, rainwater harvesting and sewer mining.
Credits
Architect

Architectus
Australia
Architect

Ingenhoven Architects Düsseldorf
Düsseldorf, 40221, Germany
Consultants

Acoustics Arup Sydney
Artists James Angus, Barbara Flynn
ESD Cundall Australia
Engineer Enstruct Group
Facade DS Plan, Arup Sydney, Enstruct Group
Hydraulic and fire services engineer Steve Paul & Partners
Landscape architect Sue Barnsley Design
Lighting design Tropp Lighting Design, Arup Sydney
Project manager APP Corporation
Public art coordinator Barbara Flynn, James Angus
Structural steel Enstruct Group, Arup Sydney
Vertical transportation Norman Disney Young

Site Details

Location 1 Bligh Street, Sydney, NSW, Australia

Project Details

Category Commercial, Public / commercial

Source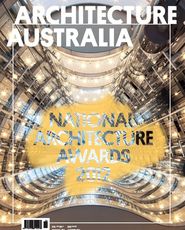 Issue
Architecture Australia, November 2012
Related topics