Jury citation
This pocket-sized park was built in memory of the late Australian architect Harry Seidler, in honour of his significant contribution to architecture and urban design. The park is a philanthropic gift from Seidler's wife Penelope Seidler to the City of Sydney, and adjoins the Sir John Sulman Medal-winning Harry Seidler and Associates office building. The park overlooks Luna Park, offering panoramic views from Lavender Bay to the Sydney Harbour Bridge.
The design and materiality pay homage to Seidler's architecture. The architectural forms reference Seidler's language, creating contrasting spaces of compression and openness to form intimate seating areas and frame harbour vistas.
From Glen Street, the park opens a plaza to the Seidler office building, showcasing a vibrant painted metal sculpture by Australian artist Robert Owen. Major plantings of distinctive native angophora trees and lomandra grasses are located on the sunnier southern part of the site, leading to the large-scaled fig tree precinct that provides shade and wind amelioration.
Straight textured grey concrete screen walls, recalling those of the Seidler offices, define the edges of the park and contrasts with a curved, smooth white concrete feature wall that has been slotted to frame harbour views and provide a backdrop to winding bench seating. Together they define the variation of residual spaces within the park. As is common in Seidler's designs, further contrast is sought, with gnarly angophora branching and Italian porphyry paving regulated within travertine stripes.
A glass panel displays a Harry Seidler sketch, with his mantra, "To each time its art — To art its freedom," written on it. This park is a fitting tribute to one of Australia's pre-eminent modernist architects.
Source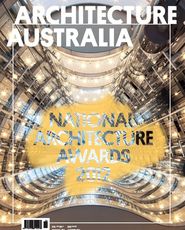 Issue
Architecture Australia, November 2012
Related topics