Jury citation
This project is an initiative of the City of Fremantle to accommodate a range of current and future community services and facilities in an integrated and coordinated manner. It sits within an area that for many years had been blighted by neglect. The Hilton Community Centre is a successfully realized social planning exercise that reinvigorates community use through the provision of a connected and shared occupation.
The architects have successfully challenged the lack of clarity and have set up a framework that consolidates facilities and developments with a consistent, open and accessible environment through and within it. The re-establishment of the reserve's east—west access axis and the removal of significant internal barriers enable the community to achieve functional connections and shared development.
The result successfully integrates new and existing structures, and includes a community centre and gymnasium facility, a multipurpose arts workshop, new and upgraded toilet facilities, and a multipurpose orientation space. Inserted into the site is a reconstructed community hall with its own history of adaption and relocation — the hall originated in the town of Northam, spent time in the suburb of Melville, and has now settled in Hilton. The conservation and refurbishment of this and other existing features connects the community through time and adds to the continuum of occupation.
Source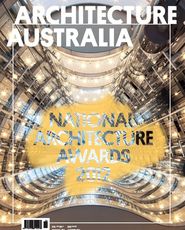 Issue
Architecture Australia, November 2012
Related topics