Six Australian architecture practices that challenge tradition have been selected to exhibit in the Formations: New Practices in Australian Architecture exhibition at the Australian Pavilion during the 2012 Venice Architecture Biennale.
The exhibition will showcase Australian architectural practices that challenge conventional perceptions and definitions of what it is to be an architect, as well as the opportunities for the profession to contribute to new areas of work through innovative practice formations.
In October 2011, the Australian Institute of Architects called for expressions of interest for participation in the exhibition from architects and architectural practices across Australia. The Institute received 124 submissions from practices working in a broad spectrum of areas, from architecture and urban design to small strategic projects, objects, installations and media.
The following practices have been selected to exhibit within the Formations exhibition at the Australian Pavilion during the Venice Architecture Biennale in 2012: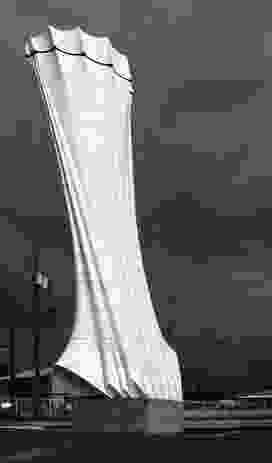 Healthabitat (Paul Pholeros, Stephan Rainow, Paul Torzillo)
Supermanoeuvre (Dave Pigram, Iain Maxwell, Chris Duffield)
Richard Goodwin Pty Ltd (Richard Goodwin)
2112 Ai (100YR City) (Tom Kovac, Fleur Watson)
The Architects Radio Show (Stuart Harrison, Simon Knott, Christine Phillips, Rory Hyde)
Archrival (Claire McCaughan, Lucy Humphrey).
The team of creative directors commented that the selected teams "represent a range of possible futures for architectural practice. From engagement with humanitarian causes to the creation of specialized technology and education networks for advanced material cultures, Australia has a wealth of innovation in its architectural community." The selected teams will work closely with creative directors Anthony Burke and Gerard Reinmuth, as well as TOKO Concept Design, to develop the exhibition, bringing together a wealth of experience in architectural practice and a deep understanding of evolutionary processes happening across the architectural profession.
Formations: New Practices in Australian Architecture aims to provoke debate about the changing role of architects and the formations in which they practice, the future of the profession and alternative forms of architectural practice by exploring the design methodologies, configurations and output of the six selected groups.
As the most important architecture event in the world, the Venice Architecture Biennale generates significant debate and commentary and is an important opportunity to showcase Australian architecture internationally, highlighting the country's varied expertise and progressive architecture. The Institute has coordinated Australia's presence at the Architecture Biennale since 2006 and will support the event until at least 2016.
The dates of the 2012 Venice Architecture Biennale are yet to be announced. It is expected to take place from September to November 2012.
Related topics