Jury comment
The 2012 Victorian state awards program has seen a dramatic rise in the number of entries from previous years. The years 2010 and 2011 saw about a 1 percent growth, yet this year there was a 21 percent increase — we received a total of 235 entries. Significant jumps in the categories of Heritage, Residential Alterations and Additions, Residential Multiple and Urban Design were somewhat countered by lowered numbers in Commercial and New Public Architecture — a sign of the times perhaps.
Despite economic uncertainty, however, Victorian architects are continuing to deliver outstanding work. Together, the fifty-seven awards and commendations hint, through their breadth and exceptional quality, at the enormous scope of architecture's contribution to Victorian society and culture. Each entry, from the smallest private intervention to the larger civic projects, reveals the generosity of spirit, innovation and tenacity that underpin excellent architecture.
All of the architects who entered projects, who put their work under the glare of peer evaluation and thereby gave us all a glimpse of the great things underway in Victorian architecture, are sincerely thanked. I also thank the jurors, who have contributed substantially to this year's awards through their time and rigorous consideration — a contribution that is essential to the credibility and distinction that characterize the Institute's awards programs.
– Shelley Penn, Jury chair
Public – new
William Wardell Award
The Royal Children's Hospital by Billard Leece Partnership and Bates Smart
Awards
Melbourne Brain Centre by Lyons
St Mary's Primary School Hall by TUG Workshop in association with Tim Hall and Associates
Narbethong Community Hall by BVN Architecture
Edithvale-Seaford Wetlands Discovery Centre by Minifie van Schaik Architects
Commendations
Keast Park Community Pavilion by Jackson Clements Burrows
Fitzroy Community School Creative Spaces by Baracco and Wright Architects and Richard Stampton Architects
PEGS Junior Boys by McBride Charles Ryan
Public – Alterations and Additions
Awards
Melbourne University Boat Club by Lovell Chen Architects and Heritage Consultants
Ormond College Academic Centre by McGlashan Everist
Annexe, Art Gallery of Ballarat by Searle x Waldron Architecture
Commendations
Multipurpose Drama Space, St Augustine's Primary School Yarraville by Robert Simeoni Architects
New Hammond Fellowship Centre – Christ Church Warrnambool by Harmer Architecture
Bastow Institute of Educational Leadership by Maddison Architects
Deakin University Waurn Ponds Central Campus by Six Degrees Architects
Urban design
Joseph Reed Award
William Buckley Bridge, Barwon Heads by Peter Elliot Architecture and Urban Design.
Awards
The Boatbuilders Yard by Six Degrees Architects
University Lawn Precinct, RMIT University by Peter Elliot Architecture and Urban Design
Commendation
Keast Park Community Pavilion by Jackson Clements Burrows
Residential – New
Harold Desbrowe-Annear Award
Queensberry Street House by Robert Simeoni Architects
Awards
Flinders House by Wood/Marsh Architecture
Rose House by Baracco and Wright Architects
Harold Street Residence by Jackson Clements Burrows
Big Hill by Kerstin Thompson Architects
Residential – Alterations and Additions
Award
Wattle Avenue House by Minifie van Schaik Architects
Hill House by Andrew Maynard Architects
Commendations
Treehouse by Susi Leeton Architect and Interiors
Milk Carton House by Simon and Freda Thornton
Residential – Multiple
Best Overend Award
Heller Street Park and Residences by Six Degrees Architects
Award
Monash University Student Housing, Clayton by BVN Architecture
Commendations
Fitzroy Apartments by NMBW Architecture Studio
Agnes Street by Jackson Clements Burrows
Sustainable
Award
Heller Street Park and Residences by Six Degrees Architects
Commendations
Creeds Farm Living and Learning Centre by Tandem Design Studio
Kangan Institute Automotive Centre of Excellence Stage 2 by Gray Puksand
Southwood Home by Zen Architects
Zen House by The Zen Architects
Commercial
Sir Osborn McCutcheon Award
Saltwater Coast Lifestyle Centre by NH Architecture
Awards
Dandenong Government Services Offices by Hassell Architects
Medhurst Winery by Folk Architects
Small Project
Award for Small Project Architecture
Garage + Deck + Landscape by Baracco and Wright Architects
Award
Hi-pod by BKK Architects and Peter Elliott Architects
Commendation
Artist Car Park Studio by Edwards Moore
Heritage
John George Knight Award
Ormond College Academic Centre by McGlashan Everist
Commendations
MacGeorge Estate, Ballangeich by Peter Crone Architects
New Hammond Fellowship Centre – Christ Church Warrnambool by Harmer Architecture
Bastow Institute of Educational Leadership by Maddison Architects
Interior
Marion Mahony Award
Ormond College Academic Centre by McGlashan Everist
Award
Flinders House by Wood/Marsh Architecture
Commendations
The Royal Children's Hospital by Billard Leece Partnership and Bates Smart
Bridge Hotel by Techné Architects
The National Hotel by Breathe Architecture
Steel
Colorbond Award
Annexe, Ballarat Art Gallery by Searle x Waldron Architecture
Commendation
Fitzroy Apartments by NMBW Architecture Studio
Enduring Architecture
Award
National Gallery of Victoria, 1968, by Sir Roy Grounds
Bates Smart Award for Architecture in the Media
National award
Forty Six Square Metres by Stuart Harrison
Good, Bad or Ugly by Stuart Harrison and Simon Knott
State award
Post Magazine by Post Magazine editorial team
Commendations
Boyd's Error: Planning's Curse by Ivan Rijavec
Falls the Shadow by Andrew Mackenzie/URO
Special award
Encyclopaedia of Australian Architecture by Philip Goad and Julie Willis
Melbourne Open House by Tim Leslie/Melbourne Open House Board
Melbourne Prize
The Royal Children's Hospital by Billard Leece Partnership and Bates Smart
Regional Prize
New Hammond Fellowship Centre – Christ Church Warrnambool by Harmer Architecture
Victorian Architecture Medal
The Royal Children's Hospital by Billard Leece Partnership and Bates Smart
Source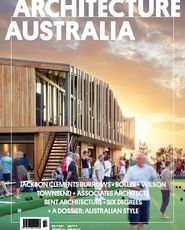 Award
Published online: 30 Jun 2012
Words: Shelley Penn
Images: Aaron Pocock, Dianna Snape, Greg Elms, Jean-Luc Laloux, John Gollings, NGV Graphic Services, Nic Granleese, Patrick Rodriguez, Peter Bennetts, Peter Clarke, Sean McPhillips, Trevor Mein
Issue
Architecture Australia, July 2012
Related topics