Jury comment
The interiors of Code Black Coffee retain and enhance the essence of the enclosing structure in a lustrous and vibrant manner. Clever planning allows distinct activities of the Code Black Coffee business to complement each other within the combined spaces. The resulting transparency of operation activates the space and reveals all of Code Black's operations in a relaxed and inviting manner. The designers have adeptly manipulated raw and rustic materials, employed quality detailing and have brought a holistic honesty to their approach to brand strategy.
Design statement
Seeking to accommodate a new roasting operation, the headquarters for the administration of the existing business, and a public coffee outlet, Code Black Coffee comprises two mirror-image warehouse shells. One side houses the primary coffee roaster and coffee outlet, while the other houses the administration, operations and dispatch sections. No area within the space has hierarchy over the other. Each space is clearly defined while sitting easily alongside the adjunct spatial programs – they lead into each other and create focus and a play on perspective. Upon entering the coffee outlet, the eye is led past the servery into the depth of the building, where as if at a religious altar, the roaster arrogantly resides. Using dark, warm tones to mute the volume, lighting and form create drama within the building's shell. Yellow highlights punctuate the ceiling of the kitchen and office areas, and the seating fabric is patterned with a Josef Frank coffee bean illustration. The Code Black branding is expressed in the choice of materials, and in the hue of the black colour base. The strong use of raw black steel creates a language of masculinity, rawness and simplicity.
The Australian Interior Design Awards are presented by the Design Institute of Australia, DesignEX and Artichoke magazine.
Credits
Design practice

Zwei Interiors Architecture
South Melbourne, Melbourne, Vic, Australia
Project Team

Katherine Kemp, Hanna Richardson
Site details

Location 15-17 Weston Street, Brunswick, Melbourne, Vic, Australia
Category Interiors
Type Bars and cafes, Hospitality

Project Details

Status Built

Source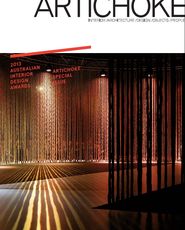 Award
Published online: 31 May 2013
Images: Michael Kai
Issue
Artichoke, May 2013
Related topics