Jury comment
Conceived within a sustainable framework, this kindergarten features a large-scale structural grid that is the defining interior motif for the project. Internally the timber grid is lined with plywood panels, which creates a negative space into which linear lighting elements have been inserted. The grid is enlivened with squares of colour interspersed with skylights, giving both playfulness and acoustic balance to the spaces. Colour, which lines selective walls and joinery, adds an element of joy, while playfulness comes in the form of large-scale jigsaw pieces which act as both storage elements and mobile room dividers.
Design statement
The brief was to design an eco-principle-driven, purpose-built kindergarten building for sixty children within a tight budget of $2600 per square metre. The brief was to create relaxed teaching environments that would benefit the pre-school age group, and which used materials and finishes with inherently simple and nurturing qualities. Passive and active design solutions have been brought together through the use of energy-efficient and sustainable materials and finishes. The primary structural timber armature follows a simple plan, morphing in three-dimensional form to marry perfectly with the interior space, expressed through the geometry of the teaching areas. Internal surfaces are clad in urea-formaldehyde-free plywood, while thermally rated skylights, positioned at ceiling level amid the coloured acoustic ceiling panels, flood the teaching spaces with soft natural light. The design of cabinetry as puzzle pieces is a visual metaphor expressed in form, creating a play zone, storage facility and room dividers to separate the teaching spaces. Using a balance between active muted colour tones and natural timber, the overall ambience of the space is playful, warm and nurturing.
The project also won the Sustainability Advancement category.
The Australian Interior Design Awards are presented by the Design Institute of Australia, DesignEX and Artichoke magazine.
Credits
Design practice

Brooking Design Architects
Fremantle, WA, Australia
Project Team

Tom Brooking, Leah Pisconeri, Dea Villarias, Javad Sayedi, Maria Mantecon
Site details

Location 463 Beechboro Road, Beechboro, Perth, WA, Australia
Category Interiors
Type Schools

Project Details

Status Built

Source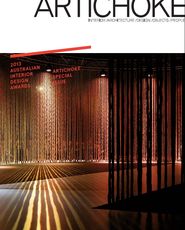 Issue
Artichoke, May 2013
Related topics