Jury comment
The interiors of this residence has continuity with its exterior spaces – from the integration of the landscape through to the interior decoration. The exterior's sculptural form is echoed throughout the interiors and scale is carefully considered right down to the design of intricate joinery detailing. The connection displays the designer's command of material and form. The interior spaces are effortlessly designated within an organic free-flowing arrangement. Material and surface textures are expressed through the harmonious integration of natural light, with subtle shifts shown from space to space. The designers have demonstrated a respectful and empathic understanding of residential design by offering a variety of delightful spaces for the owners to inhabit.
Design statement
The approach was to seamlessly integrate all elements of the interiors, architecture, furnishings, decoration and landscape into Park House. The setting was carefully considered in the design of the interior, which sits quietly with the architecture, materials and landscape of the project. Organic shapes, curved soft-plastered walls, appropriate textures and finishes, practicality and sustainability are inherent to the house, and are complemented by the artworks. The palette and detailing are restrained, and were chosen with respect to materiality. Subtle nuances differentiate each space and its use, from the more robust and relaxed approach in the kids' living space through to more refined selections in the "good room." Seamless transitions throughout the various interior spaces, as well as between the internal and external spaces, are always maintained. Skylights have been used to wash walls with light from above. Furniture, curtains, rugs, lighting, artwork and decorative items were selected for each space with a focus on softness in form and finish, and comfort and integrity in design. Items such as the front-door handles, glass display cabinet and tapware were custom made for the project. The aim was to create a comfortable, inviting and liveable family home.
The project also won the Interior Design Excellence & Innovation category.
The Australian Interior Design Awards are presented by the Design Institute of Australia, DesignEX and Artichoke magazine.
Credits
Design practice

Leeton Pointon Architects + Interiors and Allison Pye Interiors
St Kilda, Melbourne, Vic, Australia
Project Team

Michael Leeton, Kate Pointon, Allison Pye, Tracy Bufe, Tony Mussen
Site details

Location Melbourne, Vic, Australia
Category Residential buildings
Type Houses, Residential

Project Details

Status Built

Source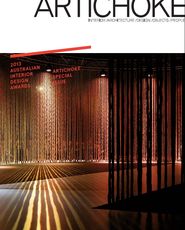 Issue
Artichoke, May 2013
Related topics